The protesters are demanding to protect Special Counsel Robert Mueller and his probe into Russia's alleged meddling in the 2016 presidential election. According to the protesters, Trump fired Sessions in an attempt to disrupt Mueller's investigation.
The protest comes after Democrats on the US House of Representatives Judiciary Committee fired off letters earlier this week to the panel's Republican chairman and acting US Attorney General Whitaker, a critic of the Muller probe, demanding an emergency hearing followed by an new investigation of purported Russian meddling in the 2016 presidential election.
​READ MORE: 'Whitaker Must Recuse!' Demonstrators Protest Against Mueller's New Boss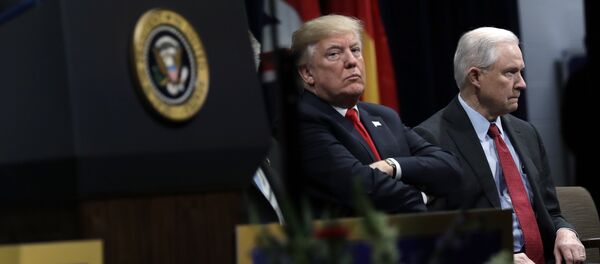 8 November 2018, 07:06 GMT
On Wednesday, Sessions submitted his resignation at the request of President Donald Trump, who subsequently named Matthew Whitaker, Sessions's chief of staff, as acting attorney general. Trump has been critical of Sessions ever since the attorney general recused himself from the Russia probe. The resignation was announced one day after the midterm elections in the United States, which resulted in Democrats having a 222-196 lead in the lower house of Congress and Republicans' majority in the Senate.
Trump, meanwhile, continues to call the Mueller probe into allegations of Russian collusion with the Trump campaign a "witch hunt" and points out the investigation has produced no evidence in well over a year.
Moscow has repeatedly said Russia did not interfere in the US political system and the allegations have been invented to excuse the election loss of a presidential candidate as well as deflect public attention from actual instances of election fraud and corruption.