Biblical conspiracy theorists have voiced a warning that the erection of a third Holy Temple in Jerusalem, which religious activists have recently called for, inevitably carries Jesus Christ's imminent return.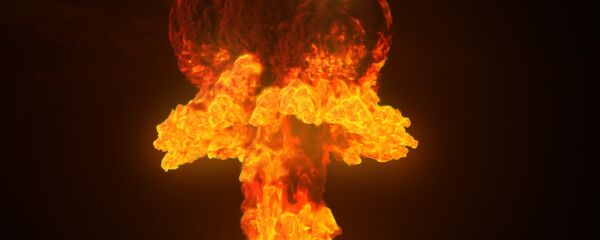 26 September 2018, 14:45 GMT
Jewish eschatological teachings have it that the Holy Temple will rise up from the ground for the third time when Armageddon nears.
The concerns were fuelled last week by the powerful Jewish rabbi community known under the name Sanhedrin, who penned letter ahead of an approaching election to two mayoral candidates, requesting to  finally rebuild the temple, after the first two Holy Temples constructed on Jerusalem's Temple Mount centuries ago were wiped out by the Babylonians and then by the Romans. The location has housed no temple since then.
 "The rabbis of the Sanhedrin court are calling both mayor candidates to include in their plans for this city the rebuilding of the third temple," Christian pastor and doomsday preacher Paul Begley stated most emotionally in one of his YouTube videos.
Here's my favourite image of the ancient Jerusalem temple, complete with the ark of the covenant, Aaron the high priest, sacrificial animals, and menorah. (Mid-third century CE: Dura-Europos synagogue, Syria.) pic.twitter.com/b1ZQ7mzmiH

— Prof Stavrakopoulou (@ProfFrancesca) 5 ноября 2018 г.
"Folks, this is as close to Biblical prophecy – I don't know what else to say," Begley added.
He claimed there could be no doubts "Jesus of Nazareth, the saviour of the world, is going to return."
Meanwhile, according to Irvin Baxter of Endtime Ministries, the third Holy Temple will be rebuilt in the last seven years of the world's existence, and in the first three years of the end times, being "the most visible sign" of the coming Apocalypse.
 "As that cornerstone is laid on the Temple Mount, every network on Earth will be televising this incredible event," Baxter remarked.
They're officially building the 3rd temple in Jerusalem…. yoooooo

— mel 🌹 (@melaniciousss) 11 ноября 2018 г.
In 2016, Breaking News Israel reported that the community Nascent Sanhedrin also called in letters to Russian President Vladimir Putin and US president-elect Donald Trump to join forces and "fulfil their Biblically-mandated roles" by rebuilding the Jewish Temple in Jerusalem.