According to Reuters, Israeli Sunday airstrikes provided cover for IDF troops to escape back to Israel by car. Hamas claimed the raid occurred when Israeli assailants in a passing vehicle opened fire on a group of  armed men, killing one of its high-ranking commanders.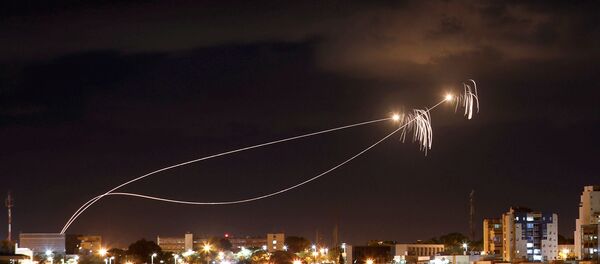 11 November 2018, 21:50 GMT
Meanwhile, one Israeli officer was killed and one injured during a shootout with Hamas militants in the Gaza Strip, the Israeli Defense Forces (IDF) said  Monday.
"During IDF special forces' operational activity in #Gaza, an exchange of fire broke out, during which an IDF officer was killed and an additional IDF officer was moderately injured," the IDF tweeted.
The Israeli military operation provoked rocket fire from the Hamas-controlled enclave, with sirens sounding in Israeli communities along the Gaza Strip border. The IDF said that a total of 17 rockets had been fired from the Gaza Strip and confirmed that three of them had been intercepted.
READ MORE: Israeli Military Kills Hamas Commander in Gaza Strip — Reports
Israeli Prime Minister Benjamin Netanyahu cut short his visit to Paris over the escalation of violence in the region.
According to Reuters, a return by Israel to a policy of targeting individual Hamas commanders — tactics largely abandoned in recent years — could significantly raise tensions along the border.
Tensions between the Israelis and the Palestinians near the Gaza border have been mounting since late March, which marked the beginning of the Great March of Return. Some 220 Palestinians, including children and media workers, have been killed by Israeli troops since that time alone.