"Anyway, we are ready for dialogue, as we are not the ones leaving the INF Treaty, while the United States is planning to do it. Both them and we are committed to restoring dialogue. And it is even more important to have an expert-level dialogue than a dialogue on the high level or on the highest level. I hope that the full-scale negotiation process will be restored," Putin said.
The interview has taken place on the sidelines of a military parade and a peace forum organized by Macron marking the 100th anniversary of the end of World War I.
READ MORE: US Has No Plans to Place New INF Non-Compliant Missiles in Europe — Bolton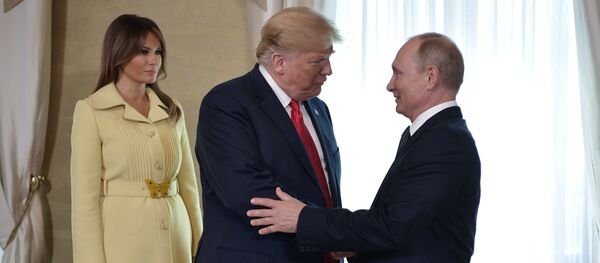 11 November 2018, 09:05 GMT
In October, US President Donald Trump said that Washington intended to leave the INF Treaty, accusing Russia of violating it numerous times, while the Kremlin rejected the accusations, adding that Russia would be forced to take measures to ensure its security if the treaty was terminated by the United States.
The INF Treaty is an agreement that the United States and the Soviet Union signed in December 1987. It prohibited either country from possessing, producing or flight-testing ground-launched ballistic and cruise missiles with a range of 500 to 5,500 kilometres (311 to 3,418 miles) and their launchers.
Russia Tries Not to Hold Large-Scale Military Drills Near NATO Countries' Borders
Russia is trying not to carry out large-scale military drills near the borders of the NATO members and reacts calmly when the bloc conducts its military drills close to Russian borders, Russian President Vladimir Putin said on Sunday.
"As for the exercises, we conduct them as well, however, we try not to hold large-scale exercises near NATO countries' borders. Our latest major exercises were in the east [of Russia], thousands of kilometres away from the borders of NATO members," Putin stated.
The Russian leader also expressed hope that the two sides would address their issues regarding military drills through a dialogue.
"But in general, we take it calmly [when NATO holds exercises near Russian borders], I hope that the dialogue, which has always been in demand, will play its positive role in this issue as well," Putin added.
READ MORE: INF Treaty 'Serves Rather Than Hampers' US Interests — Top Ex-Military Officers
Moscow has frequently criticized NATO's buildup and exercises close to its borders, saying such actions were provocative and could lead to regional and global arms race and destabilization.