Jewish institutions in Argentina have mounted a Change.org petition against rock legend Roger Waters after he took part in a Boycott, Divestment and Sanctions (BDS) movement event. The group called for the sanctioning of the Jewish state and reassessment of its Palestinian policy last week.
READ MORE: 'Trump is a Pig': Roger Waters' Show Peppered With Cartoons of 45 (PHOTOS)
A day before performing in Buenos Aires, Waters appeared on a BDS-organised program, called "A World Without Wall", where he said: "We must insist to our local governments to pressure Israel, in favour of the human rights of the Palestinians."
His words provoked the ire of Jewish communities, with the Argentina Zionist Organisation launching a petition urging people across the region to boycott his upcoming concerts, calling Waters "one of the great anti-Semites of our time".
"Waters advocates human rights and artistic freedom while demonising, delegitimising and applying a double standard to advance his anti-Semitic political agenda. We, Latin Americans, say to Roger Waters – we wish you weren't here!" the petition reads, alluding to the Pink Floyd song "Wish You Were Here".
In the meantime, officials at the Simon Wiesenthal Center, an international Jewish human rights organisation, urged the tour's sponsors, including Entel, Chile's telecommunications company, Cencosud, a large retailer and Grupo Aval, a Colombian holding company, to withdraw their financial support.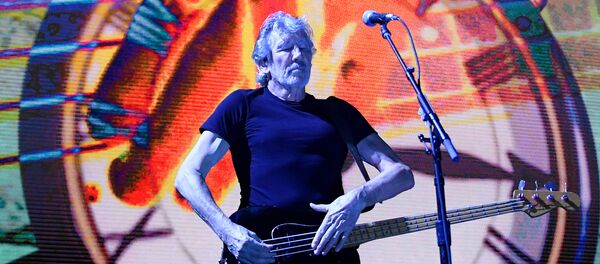 28 October 2018, 08:05 GMT
Waters previously used a pig-shaped balloon with Star of David alongside other symbols which prompted accusations of anti-Semitism against him.
The ex-Pink Floyd frontman broke silence back in 2013, posting an open letter on his Facebook, saying that he had many Jewish friends, and the accusations were "extremely insulting":
"Like it or not, the Star of David represents Israel and its policies and is legitimately subject to any and all forms of non-violent protest. To peacefully protest against Israel's racist domestic and foreign policies is NOT ANTI-SEMITIC," he defended himself.
BDS is a global movement that encourages boycotts and other means of pressure against Israel to make the country abide by international law in its dealings with Palestinians. 
READ MORE: South African BDS Movement 'Poster Girl' Banned From Israel
In January 2018, Israel imposed a travel ban on 20 foreign entities for advocating boycotts of Israel over its treatment of Palestinians.