After returning from the Remembrance Day commemoration in Paris, where Donald Trump held a bilateral meeting with Emmanuel Macron, the US President launched into a Twitter tirade against his French counterpart, criticising his idea to build an EU army to protect the continent "with respect to China, Russia and even the United States":
Emmanuel Macron suggests building its own army to protect Europe against the U.S., China and Russia. But it was Germany in World Wars One & Two — How did that work out for France? They were starting to learn German in Paris before the U.S. came along. Pay for NATO or not!

— Donald J. Trump (@realDonaldTrump) 13 November 2018
In an hour, Trump tweeted out three new messages, blasting France for what he described as unfair tariffs in trade with the US:
On Trade, France makes excellent wine, but so does the U.S. The problem is that France makes it very hard for the U.S. to sell its wines into France, and charges big Tariffs, whereas the U.S. makes it easy for French wines, and charges very small Tariffs. Not fair, must change!

— Donald J. Trump (@realDonaldTrump) 13 November 2018
He also suggested that the problem was in the fact that "Emmanuel suffers from a very low Approval Rating" in France and seemingly alluded to Macron's speech, in which he had denounced "nationalist" trends in politics, calling them contrary to "patriotism", less than a month after Trump called himself a "nationalist" at a rally in Houston:
The problem is that Emmanuel suffers from a very low Approval Rating in France, 26%, and an unemployment rate of almost 10%. He was just trying to get onto another subject. By the way, there is no country more Nationalist than France, very proud people-and rightfully so!……..

— Donald J. Trump (@realDonaldTrump) 13 November 2018
……MAKE FRANCE GREAT AGAIN!

— Donald J. Trump (@realDonaldTrump) 13 November 2018
Macron's office refused to comment on the tweets, stating that the French president's position on EU army and defence was very clear: "France is not about to make a choice between a European defence system and multilateral approaches."
In the meantime, a key advisor to Macron emphasised that the fact that President Trump remembered European history is a "pretty good thing."
Over the weekend, the two leaders met at the Elysee Palace to discuss the issue of EU defence capabilities, with President Macron saying that Europe could bear a greater financial burden in terms of collective defence.
READ MORE: Netizens Think Trump-Macron Rapport Over After POTUS' Angry Tweet on EU Army
His American counterpart, in turn, stated that Washington wanted a "strong Europe" and was willing to help its European allies, but at the same time, he wanted it to be fair:
"We want a strong Europe, it's very important to us. We want to help Europe but it has to be fair. Right now the burden sharing has been largely on the United States," Trump lamented.
The meeting followed a somewhat angry tweet by President Trump, blasting Macron's idea of creating an EU army that would potentially protect the continent from Russia, China, and even the United States:
President Macron of France has just suggested that Europe build its own military in order to protect itself from the U.S., China and Russia. Very insulting, but perhaps Europe should first pay its fair share of NATO, which the U.S. subsidizes greatly!

— Donald J. Trump (@realDonaldTrump) 9 November 2018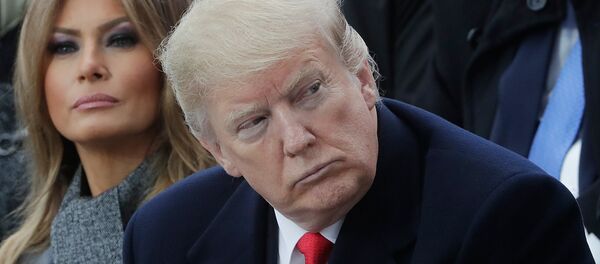 11 November 2018, 16:31 GMT
Donald Trump has on multiple occasions pressed NATO member-states to meet their annual defence spending obligations in the alliance, insisting on fair burden-sharing.
During the NATO summit in Brussels in July, Trump demanded that members raise their expenditures to 4 percent of GDP — instead of the existing target of 2 percent.
POTUS has also repeatedly blasted the European Union over its trade practices, which he sees as discriminatory against the US. Washington introducing steep tariffs on steel and aluminum imports, thus prompting the bloc to roll out retaliatory measures.