The US-led coalition evacuated the other day a number of Daesh* terrorists by helicopter from the province of Hasakah to some unknown location, SANA reported.
"On November 10, the helicopters of the international coalition led by the US evacuated supposedly three militants out of As-Suwayda village in the north-eastern part of Hasakah province and headed in an unknown direction," the agency cited its sources as saying. 
The coalition hasn't yet commented on the reports.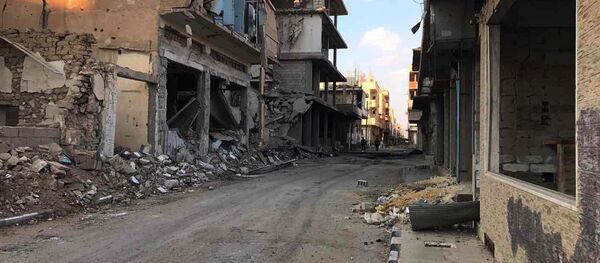 13 November 2018, 14:37 GMT
Head of the political division of the Syrian army, Gen. Hassan Akhmad Hassan earlier stated in an interview with Sputnik that the US and its allies support terrorists in Syria instead of fighting them, rather supervising them and issuing assignments. To prove the point, the general brought up reports of Daesh chiefs having been evacuated on more than one occasion to safe places by American aircraft and choppers.
In particular, on September 22 and October 7, SANA reported that the coalition had taken terrorists and Daesh chiefs out of the province of Deir ez-Zor, where the Daesh stronghold lies. The press office of the joint operations team told Sputnik in wake of the reports that the US-led coalition hadn't conducted any operations aimed at the Daesh militants' evacuation.
READ MORE: US-Led Coalition Probing Reports About Strikes in Syria That Killed Civilians
In early November, Damascus accused the US-led coalition of breaching international law and killing civilians in a letter to the United Nations, saying that Washington was not fulfilling its commitment to fight terrorism in the war-torn country. The Syrian Foreign Ministry urged the United Nations to launch a probe into a deadly airstrike carried out by the coalition in Deir ez-Zor, in which 62 people were killed and dozens injured.
The statement followed a series of bombings of the town of Hajin, with the attacks, according to SANA, including the use of white phosphorus. A coalition spokesman denied at the time the use of the prohibited substance.
*Daesh, also known as ISIS, Islamic State, is a terrorist group, banned in Russia.