The Public Accounts Committee (PAC) has accused the Department for the Environment, Food and Rural Affairs (DEFRA) of using non-disclosure agreements which have created chaos for small and medium enterprises, with many "unaware and ill-prepared" compared to larger firms. 
The damning report comes as Theresa May called an urgent Cabinet meeting to discuss measures for a draft Brexit agreement on Wednesday. 
British MPs have condemned Mrs. May's progress whilst urging her and DEFRA to increase the numbers of full-time vets by more than 50 in order to sign health certificates for exported animals, in addition to minimising export costs.  
The report also warns that British livestock and animal product exports will be delayed at customs checks due to a shortage of veterinarians in a no-deal scenario.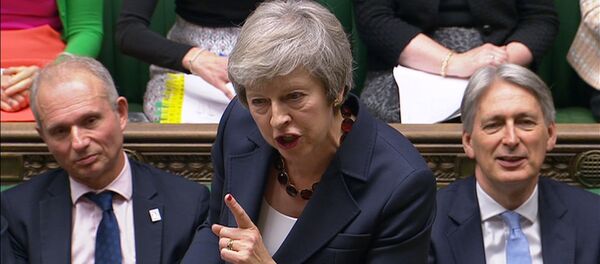 14 November 2018, 11:11 GMT
"[DEFRA] faces enormous challenges in the lead-up to EU Exit and, with the deadline of 29 March 2019 looming, still does not know which scenario it is preparing for," the report lamented. 
The report slammed DEFRA officials for being "too complacent" about disruptions to trade, as well as failing to resolve "fundamental issues for food, chemical and animal importers and exporters". 
Ministers in the Department for Exiting the European Union (DExEU) have kept British officials "in the dark" and held back progress on animal health certificates, MPs said, with ministers drafting or nearly completing only 75 percent of 86 legal changes. 
"Brexit looms but the Department for Environment, Food & Rural Affairs is a long way from being ready," PAC chair Meg Hillier said in a PAC press statement. 
"In the continued uncertainty about the UK's future relationship with the EU, Defra's civil servants must prepare for multiple and in some cases ill-defined scenarios," Ms. Hillier continued. "Anyone working in the dark is prone to stumble but in Defra's case I am concerned that the Department has lost sight of its priorities." 
The MP also slammed DEFRA's lack of transparency, stating it was "alarming" that the Department provided insufficient information "enable individual businesses and organisations to prepare". 
"Brexit border planning is not sufficiently developed, six critical IT systems are still to be tested and there is a risk that in the Department's rush to prepare necessary legislation, the quality of that legislation will suffer," she said. 
Whilst recognising that DEFRA faced severe obstacles, she urged the Department to "do [more] to assure Parliament, businesses and the wider public that it has a firm grip on its responsibilities." 
READ MORE: MEP on Brexit Deal: 'We Go to World Trade Organisation's Rules' 
"We do not accept the PAC's conclusions which fail to accurately reflect Defra's preparations for leaving the EU," a DEFRA spokesperson said in defence.  
"The PAC have ignored key findings from the National Audit Office, which found that 'Defra has achieved a great deal and to a very demanding timescale'," the spokesperson continued. "In producing this one-sided report, the PAC have failed to acknowledge the substantial progress we have made in replacing EU functions, hiring key staff and building new IT systems."