During recent air exercises with Greece, the Israeli Air Force (IAF) could specifically drill tackling the S-300 surface-to-air missile (SAM) defence systems, a twitter user nicknamed Rambo alleged.
His remarks came after the end of what the Israeli military touted as "one of the largest fighter jet exercises held by the IAF overseas in 2018."
The Jerusalem Post, in turn, reported that the two countries' air forces "practiced dogfights, ground bombing runs as well as flying in environments threatened by advanced surface-to-air missile systems, " in an apparent reference to the Russian-made S-300 batteries.
In early November, Al-Masdar News cited an unnamed military source in Damascus as saying that the IAF has not conducted operation in Syria since Russia delivered S-300 air defence units to the Syrian government forces.
READ MORE: Special Delivery: WATCH New Video of Russian S-300 Deployment in Syria
On October 3, Israeli Defence Minister Avigdor Lieberman announced that Israel was unhappy with the S-300 supplies to Syria but that it would not stop its military operations in the region.
Earlier, Russian Defence Minister Sergei Shoigu said that Russia had completed its delivery of new S-300 systems to Syria, including 49 units of systems-related equipment such as radars, basic target acquisition systems, command posts and four launchers.
READ MORE: Israel Will Demand New Weapons From US Amid S-300 Supply to Syria — Scholar
The decision was made in the aftermath of the inadvertent destruction of a Russian Il-20 reconnaissance aircraft by Syrian air defences repelling an Israeli air strike.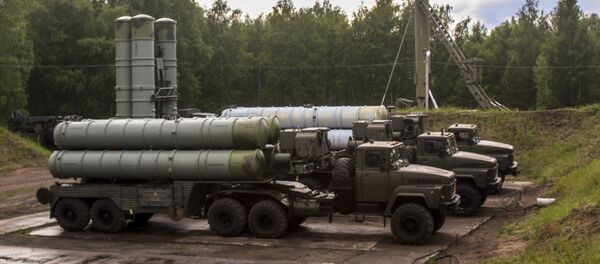 26 September 2018, 07:21 GMT
The Russian military has blamed the wreckage on Tel Aviv, emphasizing that an Israeli fighter jet had used the Russian plane as a shield against Syrian air defense systems.
Israel has dismissed the accusations, claiming that it had warned Moscow about the upcoming air raid in the area in advance.
The S-300 missile systems were initially purchased by Cyprus in the mid-1990s, and was later transferred to the Greek island of Crete following objections from Turkey.