Snapped by the Hubble Space Telescope's Wide Field Camera 3 (WFC3), the image, which was released on November 2, shows three galaxies coming together to form a smiley face.
Hubble Space Telescope captures galaxy cluster that resembles a smiley face
"Two yellow-hued blobs hang atop a sweeping arc of light. The lower, arc-shaped galaxy has the characteristic shape of a galaxy that has been gravitationally lensed," a statement from the space agency explains. "Its light has passed near a massive object en route to us, causing it to become distorted and stretched out of shape."
"Hubble captured this image in an effort to understand how new stars spring to life throughout the cosmos," it added.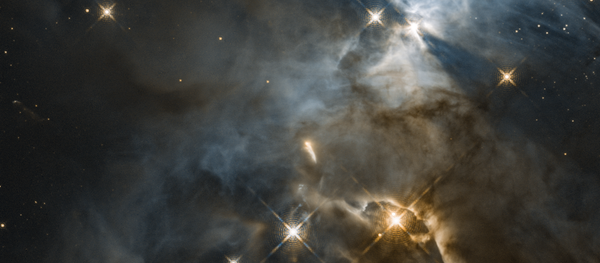 1 November 2018, 09:34 GMT
According to Space.com, WFC3 was installed on Hubble by astronauts during the last servicing mission to the telescope in 2010.
However, this isn't the first time that Hubble has photographed a smiling face, folks. In 2015, Hubble snapped a picture of galaxy cluster SDSS J1038+4849 that contained a group of galaxies that made up a face, complete with a nose and cheeks.
This latest image was unveiled days after NASA released an infrared portrait of the Witch Head nebula, otherwise known as IC 2118, on its Instagram page to celebrate Halloween this year.
​"Astronomers say the billowy clouds of the nebula, where baby stars are brewing, are being lit up by massive stars," the photo's caption states. "Dust in the cloud is being hit with starlight, causing it to glow with infrared light that was picked up by our detectors."
The October photo was captured by the Wide-Field Infrared Survey Explorer, which was previously placed in hibernation in 2011 before officials reactivated the space telescope in 2013.