New Delhi (Sputnik): In a video which has gone viral on social media, an apparently inebriated passenger of Irish origin is seen hurling abuses at the crew of an Air India passenger flight, reportedly for being denied more alcohol. 
"The drunk woman created quite the scene on an Air India international flight recently when the crew decided not to serve her more alcohol. She was recorded on video claiming that she was an international lawyer and is seen clearly spitting at the pilot," Amitabh Choudhary, an aviation writer in Delhi told Sputnik.
READ MORE: India's National Carrier Flights Stalled as Workers Go on Strike
While the unladylike behaviour was completely unwarranted and punishable, the restraint and calm demeanour exhibited by the crew in handling the situation was exemplary. Air India has officially refused to comment or laud the crew for its professionalism. The woman is said to have been arrested soon after the flight landed, he added.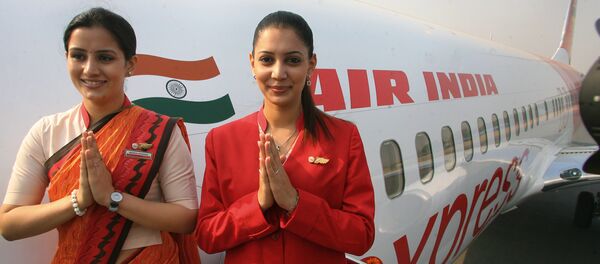 12 November 2018, 14:09 GMT
Videos of the woman's rowdy behaviour were recorded by multiple users on board and have gone viral on social media. The exact sequence of events on board the London-bound Air India flight remains unclear, as Air India has not commented on the incident yet, nor has it uploaded any message about the ordeal on twitter.
Many Twitter users have demanded that the passenger be put on the 'no fly list'.
Irish lady behaves in such an abusive, racist way with @airindiain crew for being refused extra drinks. Very decent AI crew behaviour. Arrested on landing. Wonder if she should have been controlled onboard with handcuffs. @JitiBhargava @Mohan_Rngnathan pic.twitter.com/kSTDmGOEm5
Irish women drunk on Air India Flight: I am Surprised that the Cabin Crew did not Physically Restrain this Pissed-Drunk International Criminal Lawyer and Restrict her to her Seat when she started this Drunken Rampaging Act? Only because she is European? https://t.co/8wcrWFN301
Why Air India Staff Listen to abuses from this beggar Irish or English Lady? Just Handcuff her & tie to seat as per International aviation rules: @airindiain @British_Airways @AerLingus @VirginAtlantic @MEAIndia
​