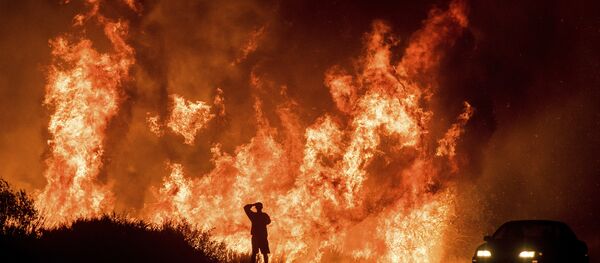 9 November 2018, 23:39 GMT
Since starting last Thursday in the foothills east of the city of Paradise in Butte County, the Camp Fire has claimed the lives of 56 people, nearly all in the town of Paradise, with over a hundred people still missing, according to the Butte County Sheriff's Office. The blaze has scorched 375 square miles of Sierra Nevada foothills and destroyed 9,200 structures,  Cal Fire said Thursday. Cal Fire officials say the blaze is only 40 percent contained and may not be totally under control until the end of the month.
At this point, Camp Fire is already the deadliest and most destructive in the state's history. Over 9,000 firefighters are fighting the blaze and over 50,000 people have been forced to evacuate.
CALFIRE: 1 week later… #CampFire now 40% contained, 56 people have died, dozens missing, 8,650 homes destroyed, 140K acres burned

— Mike Mibach KTVU (@MibachKTVU) November 15, 2018
​A new lawsuit says it's the power company's fault, although a cause has not yet been determined by fire officials.

13 November 2018, 14:57 GMT
The lawsuit, filed in the San Francisco Superior Court on Tuesday by three law firms that collectively refer to themselves as the California Fire Lawyers on behalf of 22 plaintiffs, alleges that PG&E, California's largest electric provider, failed to properly maintain, repair and replace its equipment and that "its inexcusable behavior contributed to the cause of the 'Camp Fire.'"
"On November 7, 2018, PG&E emailed the owner of property in Pulga in the area of origin of the Camp Fire and informed the owner they were 'having problems with sparks' from their transmission lines and needed to inspect a transmission tower," the lawsuit states. "Even though PG&E's employees had visited the property on November 7, they did nothing to fix the cause of the sparks."
"Despite its own recognition of these impending hazardous conditions, on the day of the Camp Fire's ignition, PG&E ultimately made the decision not to proceed with its plans for a power shutoff," the lawsuit continues.
Cutting the power to prevent wildfires during periods of high danger, when dry conditions and high winds threaten to snap trees and topple power lines, is standard practice for PG&E and other area utility providers such as Southern California Edison, Reuters noted. Last month, PG&E cut power to 60,000 customers for just such a reason.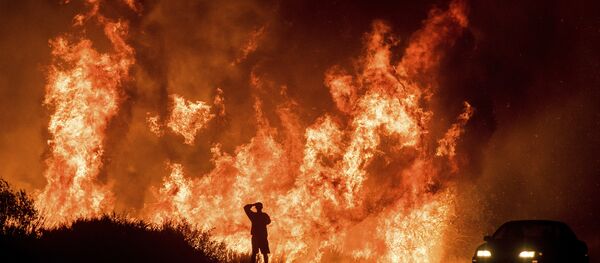 14 November 2018, 00:44 GMT
Following news of the suit, PG&E's stock fell by 21.8 percent. The company warned the Securities and Exchange Commissions on Tuesday that, if found liable for the loss of life and extensive destruction wrought by the Camp Fire, the costs could exceed its insurance coverage.
A Moody's report earlier this week projected that the Camp Fire's damages could total $6.8 billion. According to the PG&E's SEC filing on November 9, it's only got $1.4 billion in liability coverage and only has $3.46 billion in cash after borrowing from an existing revolving credit line.
"It's important to remember that the cause [of the Camp Fire] has yet to be determined," PG&E said in a statement Wednesday. "Right now, our primary focus is on the communities, supporting first responders and getting our crews positioned and ready to respond when we get access, so that we can safely restore gas and electricity to our customers."
Radio transmissions by the California Department of Forestry and Fire Protection (Cal Fire), the state's agency for combating wildfires, on the day the Camp Fire broke out point to downed power lines in the vicinity of the fire's origin and at the time the fire broke out.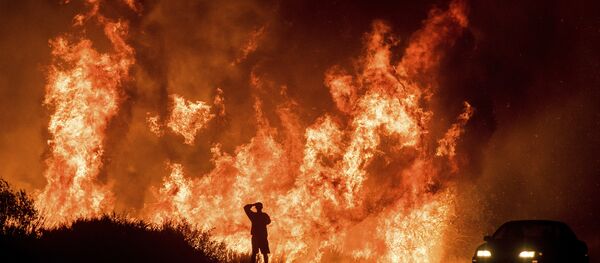 10 November 2018, 23:29 GMT
"Engine 2 is responding. Copy, possible power lines down," says the radio transmission from last Thursday, ABC 7 in San Francisco reported on November 9. PG&E 's initial electric incident report to the Safety and Enforcement Division of the California Public Utilities Commission (CPUC) notes that a power outage occurred at the site at 6:15 a.m.
According to Cal Fire, the Camp Fire started near that area only 15 minutes later, at 6:33 a.m.
If the utility giant is found liable for the blaze, it wouldn't be the first time: in 2017, Cal Fire found PG&E responsible for 12 wildfires that killed dozens of people, and in eight of those fires it violated state laws governing vegetation management, according to the fire protection agency.
"These are things that should not be happening," California State Senator Jerry Hill told ABC7, adding that he would hold the utility company responsible.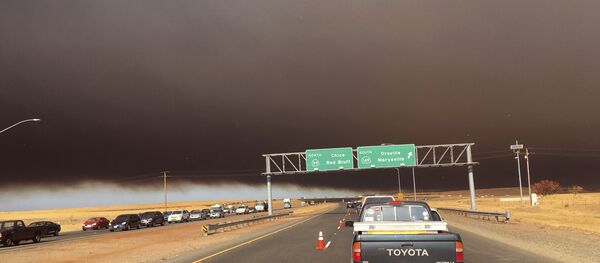 8 November 2018, 21:13 GMT
"I anticipate if these fires are shown to be PG&E's responsibility, they will be right back to the legislature and the governor," Hill said. "Trying to get another bailout as they did last year."
Utility Dive noted in June that PG&E is not generally held accountable when falling trees or branches strike or down its lines or other systems accidentally, but that it can be found responsible if one of its devices fails and ignites a fire or if it's found to have not done enough to clear vegetation from around its equipment.
However, the company has also called for changes in the state's liability laws, complaining in June that California is one of the few states in which it can be found liable for fire damages, "even if we followed established inspection and safety rules."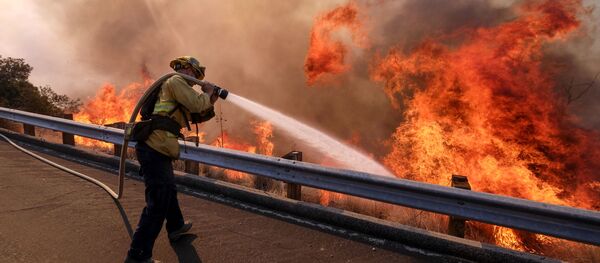 14 November 2018, 14:45 GMT
In September Sacramento passed SB-819, a bill authored by Hill that will protect customers from rate hikes by PG&E attempting to compensate for costs related to wildfires and other disasters, Utility Dive reported at the time.
"PG&E just has to change the way they do business," Hill told the news broadcaster. "If they don't change, then they need to be held financially, fiscally responsible for their negligence. That's assuming that they are negligent in these fires [the Camp Fire and the October 2017 Tubbs fire], and that we don't know that yet."