Stocks for Persimmon and Taylor Wimpey, two of the UK's largest homebuilders, fell 9 percent and 8.6 respectively. Barratt Developments and Berkeley group stocks also dropped 8 and 7.2 percent.
Major British banks also suffered as the Royal Bank of Scotland tumbled 7.1 percent. Lloyds Bank and Barclays Bank both lost 4.6 percent in share value.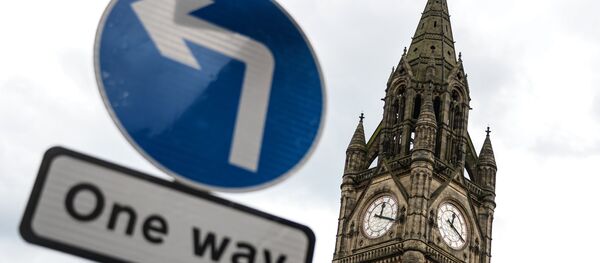 15 November 2018, 11:23 GMT
UK retailers Marks & Spencer and Next also both lost 4.5 percent. The Royal Mail also slid 6.1 percent, below 2013 float prices. Budget airliner EasyJet also lost 6.8 percent amid a potentially dire scenario where a no-deal Brexit could ground all UK flights.
The British pound also nosedived to 1.27985, down from 1.3021 8:00 on Thursday morning.
"The market has taken a big red pen to stocks which are heavily exposed to the UK economy like the banks, retailers and housebuilders," Laith Khalaf of Hargreaves Lansdown told the Independent.
"These sectors were already under pressure, but the potential for an orderly Brexit to unravel in the next few days is causing further distress to be manifested in share prices."
Brexit mess and weaker Pound hammering the UK property stocks. ITU —5.9%, HMN —5.1%, CCO —4.3%. Ironically, on a day when EWC is formally adopted, SA property stocks are holding their own. (Still like Capco though.)

— Karin Richards (@Richards_Karin) November 15, 2018
Ken Odeluga of City Index said: "The sense that it might not just be the Brexit deal that is unravelling but also the government, suggests another dimension to the selling: concern that if the Conservative government falls, Labour might replace it in the event of a snap election."
Mrs. May's Cabinet was buffetted by several high-level resignations, including Work and Pensions secretary Esther McVey, Brexit secretary Dominic Raab and junior Brexit minister Suella Braverman all resigned within hours after the proposal was released.
Northern Ireland's state minister Shailesh Vara also resigned from his cabinet post on Thursday, stating that "it is a sad day when we are reduced to obeying rules" of countries that "do not have our best interests at heart."