Malmstrom spoke out to the reporters after a meeting with the US Trade Representative Robert Lighthizer, noting that auto tariffs weren't directly discussed during the meeting. Instead, the talks focused on regulatory cooperation issues and ways to enable EU countries to import more American soybeans and liquefied natural gas, Reuters reported.
READ MORE: Canadian Prime Minister: Trump Can Use Auto Tariffs as Threat Instrument
Malmstrom did not mention the exact US products on which European Union would levy retaliatory tariffs, as they had to be discussed with member states, however, she said the list would include "all kinds" of product.
"It could be cars, it could be agriculture, it could be industrial products, it could be everything. And we will do that, but hope we don't have to get to that situation," she said, cited by Reuters.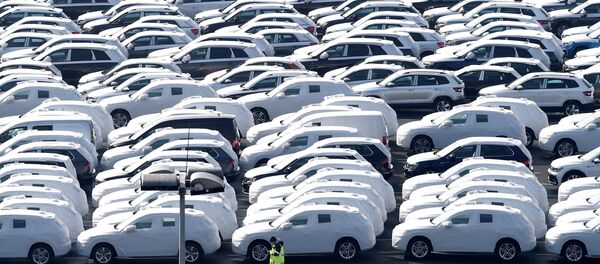 Trump administration officials on Tuesday said Trump's trade team had made no decisions on how to proceed with new recommendations from the Commerce Department on the possible tariffs on autos and auto parts to protect the US industry on national security grounds. The exact offer from the Commerce Department is yet to be disclosed.
Malmstrom said that the EU is willing to negotiate a limited trade deal on industrial goods, including autos, that seek to bring tariff rates to zero for both the United States and Europe. However, the scope of these talks cannot be defined until early next year, when the United States Trade Representative (USTR) completes its consultation process with Congress and the EU receives a negotiating mandate from member states.
Earlier on Wednesday Bloomberg reported citing two sources that Trump had threatened to slap 25% levies on imported autos, light trucks, vans, SUVs and parts from the European Union, following a Commerce Department investigation. Automakers including big US companies like Ford and GM worry that the tariffs will increase costs by nearly $7,000 for imports and more than $2,000 for domestically produced vehicles, CNBC reported.