The Israeli satellite imaging company ImageSat International (iSi) has claimed that the images of the S-300 long-range surface-to-air missile systems deployed to Syria indicate that these batteries have yet to be put into service there.
"The new Syrian S-300 system, which was received from Russia on September 2018 and deployed near [the town of] Masyaf, isn't yet operational," iSi reported.
The company alleged that the S-300 missile launchers have yet to be installed and that some of the missile system's elements, including its radar, remain covered with camouflage nets.
READ MORE: S-300 Supplies to Syria Underscore 'Radical Change' in Russian Policy – Observer
In late October, iSi released satellite images of what it claimed was the first site for one of the S-300 systems, identifying the location as a pre-existing air defence base in the northwest of the town of Masyaf.
The images featured large vehicles under camouflage nets that the iSi claimed were S-300 systems deployed at Masyaf base; also, the images showed four alleged S-300 transporter erector launchers near a newly constructed deployment post.
READ MORE: Israeli Publicist Explains Why Tel Aviv Remains 'Cool' Over Syria's S-300
The Syrian government has not commented on the reports yet.
Earlier in November, Al-Masdar News cited an unnamed military source in Damascus as saying that the Israeli Air Force (IAF) has not attacked Syria since Russia delivered the S-300 systems to the Syrian government forces.
The source claimed that the Israeli air force had not violated Syria's airspace from either the disputed Golan Heights or Lebanon, although it has flown close to the border.
READ MORE: US to Supply More F-35s to Israel to Offset S-300 Systems in Syria – Report
In early October, Russia completed its delivery of new S-300 systems to Syria, including 49 units of systems-related equipment such as radars, basic target acquisition systems, command posts and four launchers.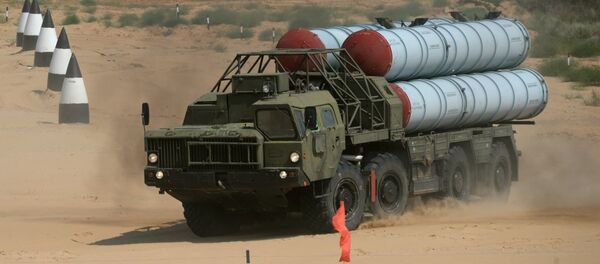 6 October 2018, 09:00 GMT
Earlier, Russia announced that it would provide Syria with the S-300 as part of its response to the downing of a Russian Il-20 plane with 15 military personnel on board in Latakia.
Moscow accused the Israeli Air Force of deliberately using the Russian aircraft as a shield during their attack on targets in Syria, which led to the plane's accidental destruction by a Syrian air defence battery. Israel rejected the accusations, claiming that it had warned Moscow about the upcoming air raid in the area in advance.