The US-led Coalition has resumed airstrikes east of the Euphrates River in Syria, and are using white phosphorous munitions, Russian Foreign Ministry spokeswoman Maria Zakharova has said.
"The Americans have resumed intensive airstrikes against terrorist-controlled settlements along the eastern bank of Euphrates, including, according to local residents, the use of white phosphorus munitions," Zakharova said, speaking at a press briefing in Moscow on Thursday.
Earlier, a Coalition officials told Sputnik that repeated Syrian media reports on the use of cluster munitions in eastern Syria were "false," and that the Coalition's operations "conform to the Laws of Armed Conflict." On Wednesday, the Syrian Arab News Agency (SANA) accused the Coalition of using cluster munitions in strikes on the towns of al-Sha'afa and Hajin, leading to civilian casualties.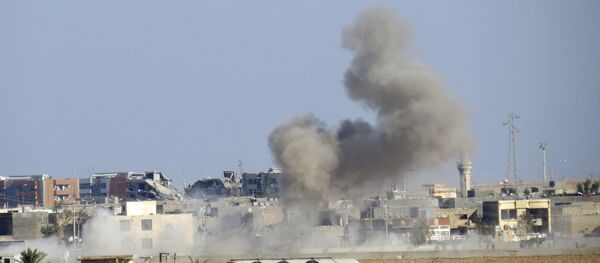 15 November 2018, 07:35 GMT
Last week, SANA
reported
that the Coalition used white phorphorus in Hajin in strikes earlier this month. A spokesman
said
that the Coalition would investigate reported civilian casualties, but did not address the alleged use of white phosphorus. The Coalition has previously denied the use of the type of munitions, calling Syrian media claims on the issue 
"totally false."
White phosphorus munitions are banned under the 1977 First Additional Protocol to the 1949 Geneva Conventions.
The US-Led Coalition began a campaign of airstrikes in Syria in 2014, following up with ground-based operations in eastern and southern Syria. The Syrian government has condemned the Coalition's efforts, stressing that they have not been authorized by the Syrian government or the UN Security Council. Damascus has also repeatedly accused Washington of waging a phony war on the jihadists, pointing to numerous reports of the US providing assistance to suspected terrorist targets or interfering with Syrian military efforts to destroy Daesh* and other terrorist militants operating on Syrian soil.
*A terrorist group outlawed in Russia and many other countries.