"He [Pence] demanded that China must respect the international law. I would like to say that China is a good example [for other countries] in terms of respect for international law. I saw that recently Russian Foreign Ministry's spokeswoman [Maria] Zakharova spent 15 minutes of a press briefing in order to mention US violations and denouncement of the international treaties. That is why I sincerely recommend some US officials not to exaggerate their [compliance with the international law] and blame others," Chinese Foreign Ministry's spokesperson Hua Chunying said.
READ MORE: EU Sides With US in Criticism of China's 'Unfair' Trade Practices
She pointed out that China respected the security and development interests of the United States and called on Washington to respect the sovereignty and interests of Beijing.
"Concerning the trade and economic differences, China has a very clear and consistent position. We believe that the Chinese-US trade and economic cooperation is naturally mutually beneficial. Equal talks are the only way to solve the trade issues," Hua added.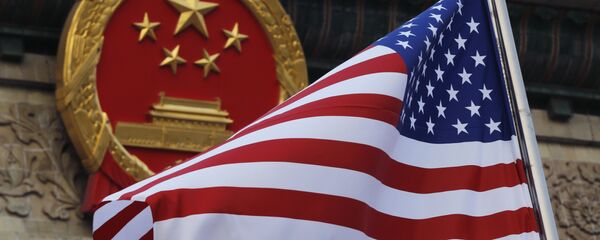 15 November 2018, 10:57 GMT
The spokesperson's comments follow US Vice President's Mike Pence statement made to The Washington Post earlier this month that China should fundamentally change its behaviour in order to avoid the cold war with the United States. The vice president accused China of violating the international law and pointed out that Washington was going to step up pressure on Beijing in case of no concessions from the Chinese party.
The Chinese-US trade row escalated in March after US President Donald Trump announced import tariffs on steel and aluminium. Since then, Washington and Beijing have imposed several rounds of tit-for-tat tariffs.