During the Thursday government's meeting, Estonian Foreign Minister Sven Mikser from the Social Democratic Party (SDE) proposed to express support for the UN migration deal but the idea was criticized by Justice Minister Urmas Reinsalu from the SDE coalition partner Pro Partia (Fatherland). The coalition partners failed to reach consensus on the issue. Earlier on Friday, SDE chairman Jevgeni Ossinovski called on Ratas to oust the justice minister.
READ MORE: NATO Aircraft to Continue Mission in Estonia After Accidental Missile Launch
"The discussion in the government yesterday and today's demand of the Social Democratic Party's chairman show that the coalition's performance capabilities were undermined," Ratas wrote on his Facebook page.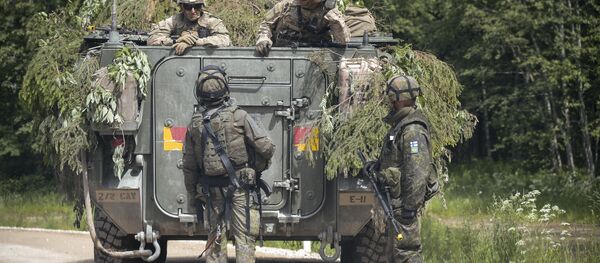 11 August 2018, 17:31 GMT
The prime minister said that he was visiting the northeastern part of Estonia but was going to change his schedule and return to Tallinn over the coalition crisis.
Mikser has postponed his upcoming visit to Canada over the government's disagreements.
"The foreign minister's visit to Canada is delayed over the tense internal political situation," the Foreign Ministry said in a statement.
Late on Thursday, Estonian President Kersti Kaljulaid criticized the government's failure to support the UN migration deal.
"We cannot bury our heads in the sand and hope that this makes migration cease to be. We could walk away from the table, but by doing so we only forfeit the opportunity to have our say instead of solving the problem," Kaljulaid said in a statement.
The Global Compact for Safe, Orderly and Regular Migration is set to be formally adopted at a UN conference in Morocco on December 10-11. Though the treaty is not legally binding, some countries have expressed concerns that the compact could promote the liberalization of border crossing procedures.