Nicola Sturgeon, Scotland's first minister and leader of the Scottish National Party (SNP), has said EU leaders "could be willing" to renegotiate terms of Britain's withdrawal from the bloc if the deal is voted down by parliament.
Speaking in Glasgow on Thursday, at the Scottish Federation of Small Businesses' annual dinner, Sturgeon urged Prime Minister Theresa May to search for a "better alternative" instead of just waiting for the deal to be "defeated" by lawmakers.
READ MORE: MP Rees-Mogg Names Five Favourites to Succeed PM May if She's Ousted
Moreover, despite the negative outlook, she insisted that a no-deal Brexit is not "inevitable", adding that Brussels is likely to consider a fresh "sensible option" even at this late stage of negotiations.
"I think there would be a willingness to negotiate that on the part of the EU," she said.
Sturgeon suggested the Article 50 deadline may need to be extended to allow negotiators to finalize terms of the divorce agreement and post-Brexit trade deal.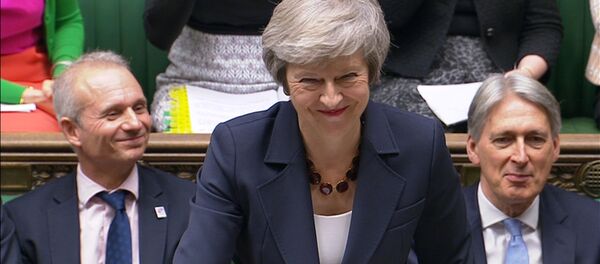 16 November 2018, 03:45 GMT
PM May addressed parliament yesterday in a bid to address concerns and drum up support for the draft deal, but many politicians, including Tory MPs and some cabinet ministers, are reportedly still opposed to the deal.
Following the leaking of a copy of the deal on Wednesday, ex-foreign secretary Boris Johnson called on MPs to block the proposal, warning that it could see Britain locked in the EU customs union long after Brexit.
Meanwhile, outspoken backbencher Jacob Rees-Mogg described the deal as "rotten", echoing Johnson's concerns.
The PM is now facing the prospect of being ousted by a vote of no confidence – a move which could trigger another snap general election.
READ MORE: PM May Faces Vote of No Confidence as Tory MPs Submit Enough Letters — Reports