"If we want to create a European army that is totally independent of NATO and its forces, it's not possible to have forces that are assigned to Europe and are at the same time assigned to NATO. So, that means there will be some kind of competition," Brisset said.
READ MORE: Neutral Austria Says No to Participation in EU Army as NATO Rift Deepens
For General Jean-Bertrand Pinatel, political scientist and honorary President of the Federation of the professionals of competitive intelligence, "Macron's idea is a good one", and it is about a "desirable utopia".
"The European army is a utopia. As I've already said, the European army is something that cannot happen in less than ten to twenty years," Pinatel told Sputnik.
According to him, the first step is to create a European alliance against threats that didn't exist when NATO was created.
"What is important is to create a European alliance against Islamist terrorism because France in particular is engaged in Sahel. NATO is not configured to deal with problems like what is happening in Sahel. We have seen that in Afghanistan where NATO hasn't really managed to stabilize the situation," General Pinatel said.
Another area is the cyber war where again Europeans can create an alliance outside NATO.
When asked which states could contribute to the creation of a European army, the two generals mentioned the possibility of participation by the EU's founding countries, but they differ on other members.
"I think that the countries that are historically the first to have created the European Union would be quite naturally members of this army," Brisset said, before adding that Denmark and some countries of the former Warsaw Pact, like Hungary, the Czech Republic or Slovakia.
General Pinatel first mentioned France, Germany, Italy, Belgium and the Netherlands while stressing that such an army could be formed in stages after the creation of a European political power which doesn't exist today in a form capable of leading an army. He thinks that the first thing to do should be creating an alliance that would fight against Islamist terrorism and the cyber threat.
READ MORE: Macron's EU Army Idea Indicates 'Emerging Crack in NATO' — Turkish MP
And here, the alliance could be much broader and include such states as Albania, Greece and other countries of the Southern Mediterranean and Europe.
"The countries that could participate in this alliance against Islamist terrorism are Germany and all the countries of the Southern Mediterranean, as well as the European states that have already been in the Ottoman Empire," General Pinatel said.
Such an alliance would bring Europe and Russia closer in a fight against the common enemy of "radical Islam", even if the United States wants that "Europe and Russia remain separated".
"There is no question for Americans, as they lead NATO, that there is a rapprochement with Russia," he lamented.
"We must also build a defense industrial base as there is no strategic autonomy at the moment; we depend on other powers for our equipment," the General said.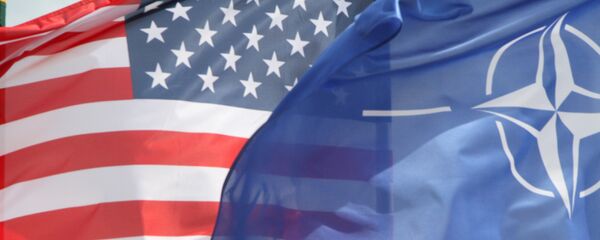 13 November 2018, 22:18 GMT
The two Generals interviewed by Sputnik consider the European army project a long way to go step by step. It could, according to them, see the day when a single European government is created.
General Brisset, for his part, believes that currently the EU member states don't have the political will to form a single government which would result in the formation of a European army.
"I don't believe so much in the formation of a European army and I can't really say what could be done later […]. For the moment, there is absolutely no common will to do that," Brisset concluded.
The views and opinions expressed by the speaker do not necessarily reflect those of Sputnik.