"North Korea continues to rely heavily on illicit shipping activities to evade UN sanctions," the state department's release said.
The US authority's comments came after officials from the United States and the United Kingdom met earlier in the day with maritime insurance companies, commodity traders and others to discuss how the private sector can help prevent North Korea's illicit activities.
READ MORE: North Korea to Expel US Citizen Detained for Illegally Entering State — Reports
"As part of the event, participants discussed mechanisms to enhance cooperation between the private sector, governments, and the UN to detect and disrupt North Korea-linked shipping, and proactive measures to halt the provision of insurance and other services to vessels and entities that violate UN sanctions," the release said.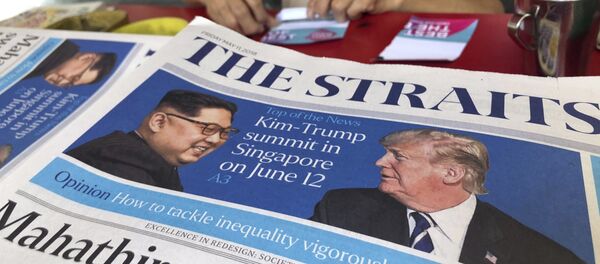 12 October 2018, 06:46 GMT
The State Department also urged all private sectors leaders who attended the workshop to end all activities that might help with North Korea's provision of refined petroleum or other shipping activities, stressing that any entity, person or vessel found to be supporting North Korea will face sanctions from the United States.
Earlier, the department reiterated that all sanctions against Pyongyang will remain in place until a fully verified denuclearization of the Korean peninsula is achieved.