US President Donald Trump skipped two major summits in Asia: the East Asian Summit hosted by the Association of Southeast Asian Nations in Singapore, and the Asia-Pacific Economic Cooperation (APEC) meetings in Papua New Guinea, leaving US Vice President Mike Pence and national security adviser John Bolton to lead a US delegation.
"If Asia matters to America, why is your leader President Trump not here?" Singaporean diplomat Tommy Koh asked Pence and Bolton at both summits, the South China Morning Post (SCMP) reported Wednesday.
"To Asians, turning up for a meeting is significant," Koh, a lawyer and ambassador at Singapore's Ministry of Foreign Affairs noted during a Wednesday event in Singapore.
Koh added that many nations in Southwest Asia are rattled over US strategy in the Indo-Pacific, particularly toward China.
China and the United States are engaged in a major trade spat which followed Trump's announcement of the introduction of steel and aluminium import duties in March.
Tensions further heightened in late May when the Trump administration announced that $50 billion worth of Chinese goods would be subject to 25-percent tariffs prompting harsh retaliation from Beijing. In addition, the US and its allies have criticized China's ongoing efforts to boost its presence in the South China Sea — particularly, in the disputed Spratly Islands.
China sees the South China Sea as strategically important, as the majority of the nation's energy imports come through maritime routes in the region.
"Is it intended to exclude countries in the region which are not democratic?" Koh asked, adding, "Is the strategic intent of this concept targeted at excluding China from the family? If so we are not comfortable," cited by SCMP.
During Saturday's Papua New Guinea meeting, US vice-president Pence — after pointedly not attending Chinese Premier Xi Jinping's APEC speech — said the US would keep tariffs on China until Beijing addresses concerns outlined by the Trump White House.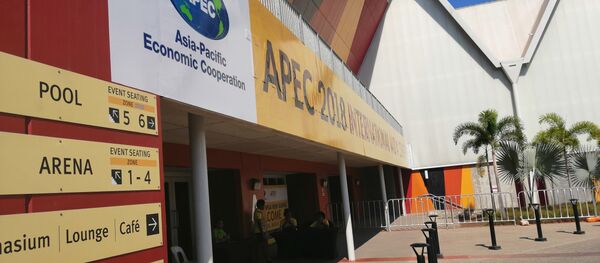 13 November 2018, 12:06 GMT
Huong Le Thu, a senior analyst at the Australian Strategic Policy Institute, agreed that Trump's absence from the meeting was a red flag.
"Trump missing [two meetings in Asia] is a missed opportunity," she observed.
"It looks like he is not committed in the region — something that contradicts the purpose of the Indo-Pacific strategy. To me, I think it looks like Asia policy is left to Pence, Mattis, Pompeo — but does not reach to Trump," she added, cited by SCMP.