"We have confirmed Coalition strikes in the area of Deir ez-Zor province and no civilian casualties are associated with the strikes in question.  The Coalition takes great measures to identify and strike appropriate ISIS* targets in order to avoid non-combatant casualties," Ryan said.
He also pointed out that the coalition had used no weapons prohibited by international law.
READ MORE: Turkey Outraged Over Photos of US Soldiers Dining With Syrian Kurds
"Any white phosphorus use is false and CJTF-OIR [Combined Joint Task Force – Operation Inherent Resolve] air strikes targeted at ISIS in the Middle Euphrates River Valley conform to the Laws of Armed Conflict," Ryan added.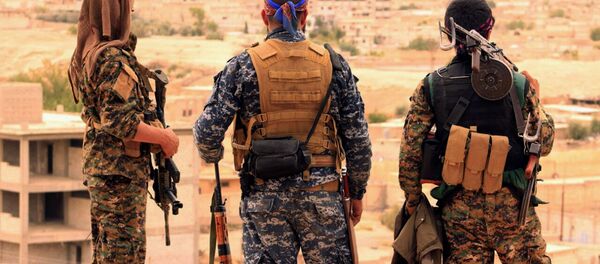 4 November 2018, 22:33 GMT
Earlier in the day, the SANA news
agency reported
 that the coalition's airstrikes had hit the al-Buqa village near the town of Hajin in the province of Deir ez-Zor leaving 40 civilians dead.
The US-led coalition of more than 70 members has been conducting military operations against the Islamic State terrorist group in Syria and Iraq since September 2014. The coalition's activities in Syria are authorized neither by the Syrian government nor by the UN Security Council.
*Daesh [ISIL, ISIS, the Islamic State] — a terrorist group banned in Russian and a number of other countries