In an exclusive interview with The Daily Mail, UK Prime Minister Theresa May specifically heaped praise on the support of her husband Philip, who "was waiting in the Downing Street flat with more practical sustenance" when she returned from Wednesday's five-hour cabinet discussion of the provisional Brexit agreement.
"The first thing he did was to pour me a whisky. On Thursday, he served up beans on toast for tea. I opened the tin! He made the toast – and did the washing up!" May said.
READ MORE: Theresa May Says NHS Could Receive More Than £350 Million Per Week After Brexit
She underscored that her husband strongly supported her Brexit stance, urging her to "keep going, this matters, keep doing the right thing."
"We've been married for 38 years, that's a long time. He is my rock. It's hugely important to have somebody there who is supportive of you, not involved in the intricacies of politics but there to provide human support," May pointed out.
READ MORE: 'I Take That Back': UK Minister Apologizes for Fabricating Brexit Statistic
Meanwhile, most Twitter users have remained sarcastic about how May preferred to cope with the stress, with one netizen describing it as "very Churchillian" and another netizen scolding the UK Prime Minister for allegedly telling lies about drinking whisky.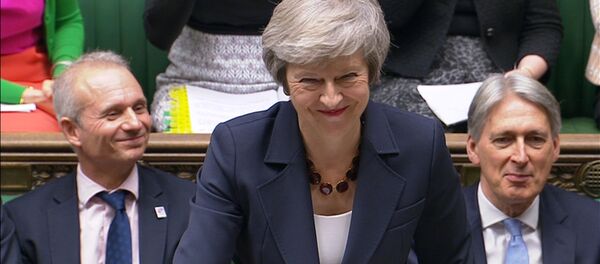 16 November 2018, 00:49 GMT
Earlier this week, May announced that the Cabinet had approved a draft Brexit agreement with the EU after five hours of talks and that the deal would be submitted to the parliament for review.
The document has been severely criticised within the Conservative Party and beyond, prompting the resignation of an array of the UK Cabinet Ministers, including Brexit Secretary Dominic Raab and Work and Pensions Secretary Esther McVey.