While the US Central Intelligence Agency reportedly named the Saudi crown prince as the person who ordered the murder of journalist Jamal Khashoggi, US President Donald Trump praised Riyadh as "a great ally" of the United States that provides "a lot of jobs and a lot of business and economic development."
"They have been a truly spectacular ally in terms of jobs and economic development," Trump said as quoted by Politico.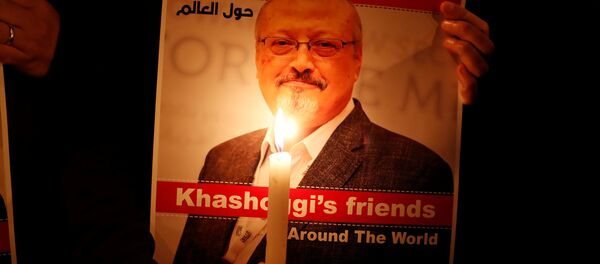 17 November 2018, 12:06 GMT
Commenting on the latest developments in Khashoggi case, US President Donald Trump said that he had not been briefed by the CIA yet on the subject, and that he intends to discuss this matter with intelligence officials and Secretary of State Mike Pompeo on Saturday.
The president also appeared reluctant to speculate about claims of Saudi Crown Prince Mohammed bin Salman being allegedly involved in this matter.
"As of this moment we were told that he did not play a role. We're going to have to find out what they have to say," Trump remarked.
Earlier, the Washington Post revealed that the CIA had concluded that Khashoggi's murder was ordered by Saudi Crown Prince Mohammad bin Salman.
A spokesperson for the Saudi Embassy in Washington, DC, dismissed the CIA's conclusions as "false."
READ MORE: CIA Reportedly Concludes Saudi Crown Prince Ordered Khashoggi Assassination
The Saudi government has characterized Khashoggi's death as a rogue operation and detained 21 suspects, charging 11 of them, with the prosecution demanding the death penalty for five of the accused.