President Donald Trump has confirmed that the US has an audio recording that allegedly sheds light on the murder of Jamal Khashoggi, a Saudi journalist, in the Saudi Consulate in Istanbul on October 2. At the same time, Trump said in an interview with Fox News on Sunday that he hadn't heard the recording himself, but had been briefed on its contents.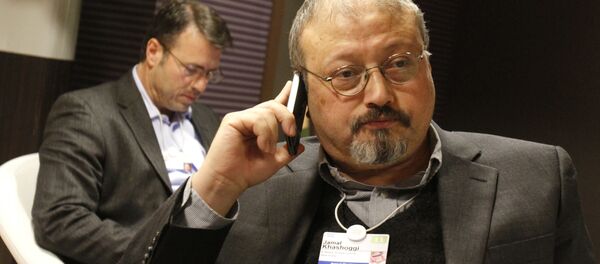 16 November 2018, 23:17 GMT
"I don't want to hear the tape. No reason for me to hear the tape, because it's a suffering tape. I've been fully briefed on it. There's no reason for me to hear it," he said.
He described the tape's contents as "very violent, very vicious and terrible," judging by what he had been told in the briefing.
Earlier, The Washington Post reported that Turkish investigators had passed the audio recording of Khashoggi's death to CIA Director Gina Haspel which, along with other evidence, reportedly led the agency to believe that Saudi Crown Prince Mohammad had ordered the assassination of the journalist. The CIA hasn't commented on the report. National Security Advisor John Bolton said that the tape doesn't contain evidence implicating the Saudi crown prince.
READ MORE: Prosecution Seeks Death Sentence for Saudis Who Killed, Dismembered Khashoggi
Saudi authorities have arrested 21 people in the course of their own investigation into the matter, 11 of whom have already been charged. Five of those charged face the death penalty. Saudi Foreign Minister Adel al-Jubeir noted that Riyadh considers the murder to be a "crime and a big mistake," but cautioned against politicising it.