After nearly 3,000 Central American migrants travelling through Mexico in a bid to make their way to the US flooded the Mexican border city of Tijuana, hundreds of locals took to the streets to protest the arrival of the caravan.
READ MORE: Migrant Caravan From Honduras Stops Over in Mexico City
Having gathered in front of a statue of the Aztec ruler Cuauhtemoc, which is 1.6 km away from the US border, demonstrators waved Mexican flags and chanted "Out! Out!" and "We don't want them in Tijuana," while calling the caravan an 'invasion'.
One of the protesters, Juana Rodriguez, said that the government needed to conduct background checks on the asylum seekers to make sure they don't have criminal records, while another woman, Paloma, blasted the migrants, who she said came to Mexico in search of 'handouts'.
"Let their government take care of them," Paloma told reporters.
Social media users have been sharing photos and videos from the site of the protests, saying that people have been chanting "Yes to migrants, no to invaders":
In a Sunday tweet, President Donald Trump cited Tijuana Mayor Juan Manuel Gastelum as saying that the city was 'ill-prepared' for the migrant influx:
Gastelum also stated that 2,750 migrants had arrived in the city so far, but Mexico's federal government has estimated the number could ultimately reach 10,000.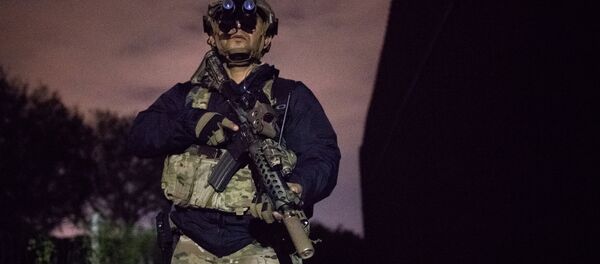 18 November 2018, 14:27 GMT
In anticipation of several caravans with thousands of migrants, mostly from El Salvador, Honduras and Guatemala, reaching the US, the Trump administration ordered some 5,800 troops deployed to the border with Mexico to prevent what the president has consistently branded as an 'invasion'.
Trump has repeatedly emphasised that the caravans included gang members that pose a threat to US national security.