Secretary of State for Northern Ireland Karen Bradley stated Monday that a rejection of the recent agreement with the EU by the British Parliament might lead to a painful exit from the bloc leading to no deal at all.
"If parliament chooses to reject that deal, there is no other option on the table. That would mean leaving without a deal", she said. "Be under no illusions, not accepting this deal is not an easy choice. It is a disorderly, potentially very chaotic exit from the European Union for the UK and I certainly believe very strongly that politicians from the whole of the United Kingdom should put that national interest first."
READ MORE: UK PM May To Say Intense Week of Brexit Talks Ahead — Reports
The statement comes amid harsh criticism of the draft agreement, negotiated by Theresa May's government. Following the announcement of the deal, Brexit Minister Dominic Raab resigned from the cabinet, claiming that the agreement was 'fatally flawed'.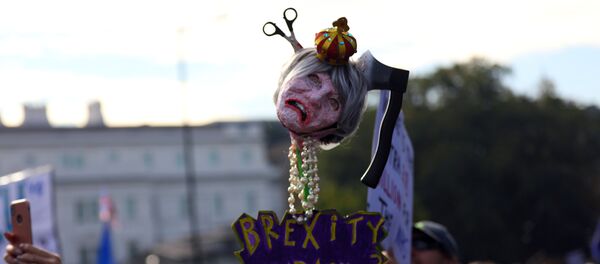 18 November 2018, 13:50 GMT
Labour Party leader Jeremy Corbyn has said that the opposition
would vote against the agreement,
adding, however, that they haven't got enough votes to stop it.
The United Kingdom voted to leave the European Union in a referendum in June 2016 and is slated to do so by late March 2019 despite a number of issues that have impeded the negotiations, specifically, the Irish border and post-Brexit economic relations between the UK and EU countries.