"Instead of making Pakistan a scapegoat for their failures, the US should do a serious assessment of why, despite 140000 NATO troops plus 250,000 Afghan troops & reportedly $1 trillion spent on war in Afghanistan, the Taliban today are stronger than before," Khan wrote on his Twitter page.
READ MORE: Senior Afghan Diplomat: US Must Withdraw Troops from Afghanistan Responsibly
The prime minister pointed out that Pakistan did a lot to support the US military operation in Afghanistan.
"1. No Pakistani was involved in 9/11 but Pak decided to participate in US War on Terror. 2. Pakistan suffered 75,000 casualties in this war & over $123 bn was lost to economy. US 'aid' was a miniscule $20 bn. 3. Our tribal areas were devastated & millions of ppl uprooted from their homes. The war drastically impacted lives of ordinary Pakistanis. 4. Pak continues to provide free lines of ground & air communication… Can Mr Trump name another ally that gave such sacrifices?" Khan tweeted.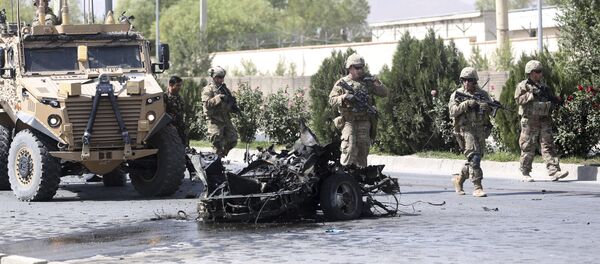 13 November 2018, 20:29 GMT
On Sunday, the Fox News broadcaster issued an interview with Trump, who said that the United States had stopped providing support for Pakistan as Islamabad was doing nothing for Washington.
In September, the Pentagon suspended $300 million in aid to Islamabad, citing the government's alleged failure to fight the Taliban and terrorist groups that conduct cross-border attacks from Pakistani territory into Afghanistan. The US move came after Washington announced in January that it was suspending $900 million in security aid to Islamabad until it takes action against the Afghan Taliban.