EU will never be transformed into a military alliance. This is what High Representative of the European Union for Foreign Affairs and Security Policy Federica Mogherini stated during a press conference in Brussels, commenting on the possibility of the creation of a joint European army.
"The European Union won't turn into a military allliance. There is no competition with NATO," she said.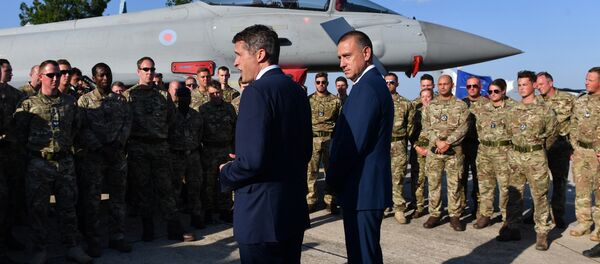 20 November 2018, 11:21 GMT
"We are not building a European army, nobody is talking about a European army here. We are investing to be more reliable and more active security "suppliers" in the region and around the world," Mogherini noted.
On November 6, appearing on Europe 1 radio program, French President Emmanuel Macron called for setting up a European army that would function independently from the US. He called attention to the fact that France had recently faced multiple attempts by outside forces to meddle in its domestic affairs and cyber space. In particular, the French president mentioned threats allegedly originating from China, Russia, and the United States.
The German Chancellor has backed his proposal, stressing recently that "Europe must take its fate in its own hands."
As a parallel move to undertake, she proposed to establish a "European security council" in order to better supervise the initiative. Merkel suggested it could be a "good supplement to NATO." Despite being vigorously supported by the European Commission, the idea was branded "insulting" by Donald Trump, who noted that Europe should first cover its NATO share.
The idea of a single EU army has notably been around for at least several years. Since as early as 2013, Berlin has overseen efforts towards closer EU defence integration through the s0-called Framework Nations Concept, which stipulates that Germany should share its troops and equipment with its European allies.
READ MORE: Professor On European Army: 'I Don't See the Vehicle Coming Off the Ground'