Daniel Boyer, a 'plane hunter' enthusiast claims to have determined the spot where flight MH370's Boeing 777 crashed, The Daily Star reported. He claims to have found the plane's remains lying northwest of Cambodia's capital Phnom Penh in the jungle forest on satellite images dating back to 2015.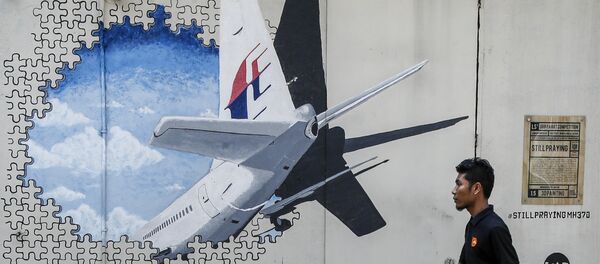 4 November 2018, 11:03 GMT
The satellite photos show white spots, scattered around what seems to be disturbed forest bed. The enthusiast claims this is the debris from the crashed Boeing 777 and the size of the fragments correspond to the size of the plane's parts.
To prove his theory, Boyer bought satellite images of the same spot made in years predating MH370's mysterious disappearance. Snapshots from 2008 and 2011 reportedly show only an undisturbed forest.
"Objects the size of a house resembling aircraft debris don't just end up placed five miles deep in the jungle by humans unless of course it was a plane crash," Boyer summed up.
Malaysia Airlines Flight MH370 with 239 passengers and crew on board disappeared from radar screens on 8 March 2014 on its way from Kuala Lumpur to Beijing during a handover from Malaysian to Vietnamese air traffic controllers. Extensive searches have only led to discovery of a few pieces of debris, thought to be parts of the wreckage, in the Indian Ocean, as well as in South Africa and Mozambique.
READ MORE: Pundit Claims Google Maps Lead on Missing MH370 Flight Might Be Result of a Hack
After years of unsuccessfully trying to locate the airplane's remains and determining the cause of its disappearance, Malaysian authorities admitted in July 2018 that they did not know what happened to the missing Boeing 777.