In a report published Wednesday, the European Commission announced that it rejected the Italian budget plan for 2019.
"Our analysis suggests that the debt rule must be considered to have not been respected," the document reads. "We conclude that the opening of a procedure for excessive deficit based on the debt is therefore justified".
READ MORE: 'Times Have Changed': Italy Clings to Euro Amid Budget Row With Brussels
Addressing the matter, European Commission Vice-President Valdis Dombrovskis told a press conference in Brussels that "Italy's draft budgetary plan is in particularly serious non-compliance."
"With what the Italian government has put on the table, we see a risk of the country sleepwalking into instability," he stressed, adding that "the opening of a debt-based excessive deficit procedure is… warranted."
Dombrovskis stressed, however, that the Commission had not closed the door on Italy and would try to avert instability in the euro area's third largest economy.
"We stand ready for a dialogue with the Italian authorities, but we think that this situation needs to be addressed," he concluded.
READ MORE: Crisis in Rome Affects Gold Prices Worldwide — Gold Market Analyst
Commenting on the EU move, Deputy Prime Minister Matteo Salvini confirmed that the government would not negotiate over its fiscal targets. He added that any possible EU sanctions against Rome would be "disrespectful" towards the Italian people.
"We are convinced about the numbers in our budget. We will talk about it in a year's time," he told reporters.
Eurogroup President Mario Centeno also noted that the issue would be discussed by the finance ministers of the EU countries in December.
​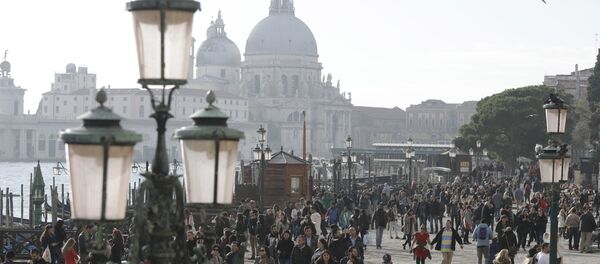 14 November 2018, 17:54 GMT
The draft state budget for 2019, approved by Rome in October, intends to abolish the planned value-added tax (VAT) hike and also introduce unconditional basic income and basic pensions.
Italy currently intends to run a public deficit of 2.4 percent of GDP, while the European Commission claims that due to the country's unstable economic situation, the deficit would reach 2.9 percent of the Italian GDP next year.