A complaint filed by the International Alliance for the Defence of Rights and Freedoms (AIDL) and a number of Yemenis accused Abu Dhabi Crown Prince Mohamed bin Zayed al-Nahyan of "war crimes, complicity in acts of torture, and inhumane treatment in Yemen," Le Figaro reported.
READ MORE: US Has Chance to Push for Progress on Yemen Given Riyadh's Weakness — Scholars
The group's lawyer Joseph Breham said that Prince Mohamed, who is Deputy Supreme Commander of the UAE Armed Forces, is responsible for attacks targeting civilians.
"It is in this capacity that he has ordered bombings on Yemeni territory," the complaint suggested.
The lawsuit also cited a report by UN experts that said Saudi-led coalition attacks may have constituted war crimes and that torture was carried out in two centres run by Emirati forces.
READ MORE: UNSC Draft Resolution on Yemen Raises Certain Concerns — Kuwaiti Envoy to UN
Crown Prince Zayed arrived in Paris on Wednesday to meet President Emmanuel Macron and Prime Minister Edouard Philippe at the Hôtel de Matignon, the PM's official residence, as well as a number of French businessmen and Emirati students studying in France.
Mohamed bin Zayed will visit Paris November 21, at the invitation of President Emmanuel Macron to discuss bilateral cooperation in the fields of economy, investments, trade, culture, and recent developments in the Middle East.

— محمد بن زايد (@MohamedBinZayed) 20 November 2018
Mohamed bin Zayed will also be meeting Prime Minister Edouard Philippe and a number of French businessmen and UAE students studying in France.

— محمد بن زايد (@MohamedBinZayed) 20 November 2018
A peaceful resolution to the ongoing conflict in Yemen is expected to be on the meeting's agenda after 16 humanitarian organisations sent a petition to Macron demanding that France stop selling arms to Saudi Arabia and the UAE.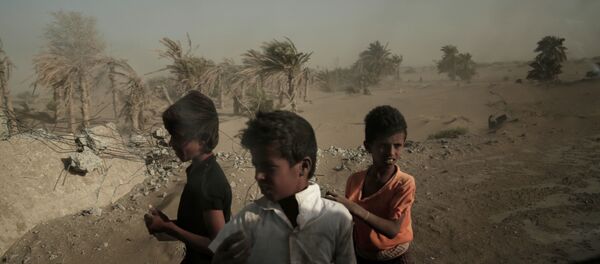 20 November 2018, 12:42 GMT
French prosecutors are examining a similar complaint filed in April by the Legal Centre for Rights and Development against Saudi Crown Prince Mohammed bin Salman, when he was on a state visit in France.
Since 2015, Yemen has been engulfed in a bloody conflict between the internationally-recognised government of President Abd Rabbuh Mansur Hadi and the Houthi movement, which was allied with ex-president Ali Adbullah Saleh, who was killed in December 2017.
In March 2015, Saudi Arabia, the UAE and a coalition of mostly Gulf States launched ongoing airstrikes in Yemen at Hadi's request.