Adding a new twist to its trade war with China ahead of a crucial meeting between Donald Trump and Xi Jinping at this month's G-20 summit, the US has once again ramped up trade tensions with Beijing, accusing the country of intellectual property theft.
In a 53-page report, the US trade representative's office released blames China for conducting a global espionage campaign to collect sensitive commercial information and operated an unfair technology transfer regime whereby US companies are required to hand over tech and IP to their Chinese competitors, Bloomberg wrote.
"We completed this update as part of this administration's strengthened monitoring and enforcement effort," Ambassador Robert Lighthizer said. "This update shows that China has not fundamentally altered its unfair, unreasonable, and market-distorting practices," he added.
A Chinese foreign ministry spokesman responded by insisting that China 'firmly protects' intellectual property rights.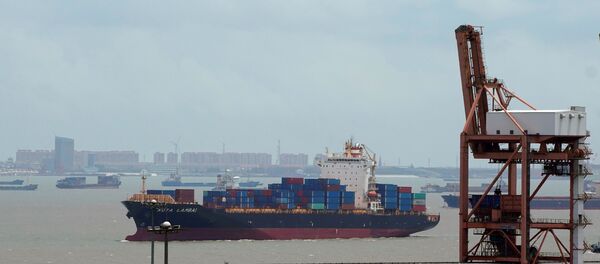 23 August 2018, 14:17 GMT
One of President Trump's top economic advisers, Kevin Hasset, has suggested that Washington's aim is to have China evicted from the World Trade Organisation. Hasset also said that the US has been failed by the WTO.
The latest flare-up of tensions between the US and China comes just weeks after Trump and Xi agreed to 'strengthen economic exchanges'.
Last month, WTO director-general Roberto Azevedo underscored the grave threat posed to the global economy by the continuing trade war between the US and China, which threatens to put at risk millions of jobs in both countries.
"Potentially, millions of workers would need to find new jobs; firms would be looking for new products and markets; and communities for new sources of growth," Azevedo warned.
The two economic powerhouses have been locked in a battle over trade for months now with the US having slapped tariffs on $250 billion worth of Chinese goods and Beijing hitting back with $110 billion duties on imported US goods.
READ MORE: US-China Trade War Could Halt After G20 Without Resolving Long-Term Differences