Hundreds of people confronted police on Belgian roads on Thursday, protesting against a hike in fuel prices. The demonstrations have flared up near the Walloon city of Feluy where Total's petrochemical plant is located, Belgian daily DH reports.
Roughly 400 protesters were hurling stones and Molotov cocktails at police, crashing car windows with metal rods. The so-called 'yellow jackets' are said to have used lasers and forced the pilots to move a police copter away from the site.
The demonstrators have also blocked traffic on highways towards Brussels. As a result, some 250 trucks were blocked on the E16 Mons-Brussels motorway and another 150 at the Belgium-France border crossing on the N6 road.
According to DH, police officers used water cannons to disperse the crowd. Around 30 people were arrested on charges of "thefts, violence-related crimes and the use of weapons", Belgian Interior Minister Jan Jambon confirmed on Thursday.
After several days of unrest, 'war scenes' were seen on Wednesday evening by Belgian broadcaster RTBF, including a cameraman who was attacked by the demonstrators.
A nationwide protest movement against the rising fuel prices kicked off on French roads last week. The protesters were dubbed 'yellow jackets' because they were wearing the high-vis jackets French motorists are required to carry.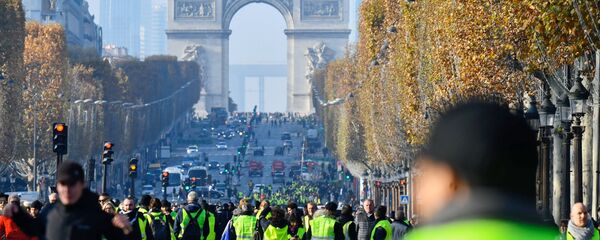 20 November 2018, 09:01 GMT
Over 500 people were injured during protests in France, Interior Minister Cristophe Castaner said on Monday.
In 2018, gas prices across France increased by between 10-15 percent, with the price of diesel jumping nearly 25 percent. A further increase is set to happen on January 1, 2019.
One of the reasons for the increase in fuel prices is the introduction of a green tax, announced by the authorities to encourage the purchase of environmentally-friendly vehicles.