"The Azov topic is being circulated in the information space deliberately and laboriously. The current Kiev regime, in coordination with its foreign patrons, has found another anti-Russian theme created out of thin air… But this was expected as the Crimea issue is no longer perceived as a 'hot topic' and an instrument of applying pressure on Russia, so they simply need to find brilliant fresh topics…," Karasin said in an interview with Russia's Kommersant newspaper published on Thursday.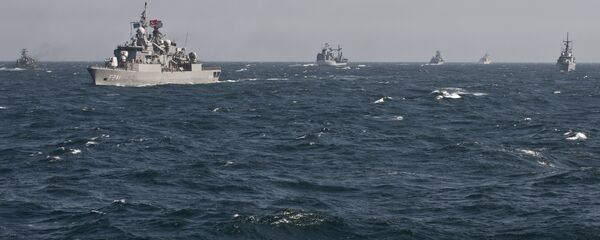 5 October 2018, 16:23 GMT
"In fact, the situation in this region is not particularly interesting for our so-called Western partners. What's really important for them is to find a new pretext for 'attacking' Russia and for tightening anti-Russian sanctions," Karasin stressed.
The Russian Foreign Ministry also warned Kiev in a statement on Wednesday against attempts to revise the status of the Sea of Azov as inland waters shared two countries in violation of international law.
Tensions between Russia and Ukraine in the Sea of Azov rose this year after Ukraine detained two Russian ships for port calls in Russian Crimea, which Ukraine considers as its territory. Russia described the move as "maritime terrorism" and ramped up patrols off its Azov coast, prompting Ukraine to accuse Russia of illegal searches.
READ MORE: Ukraine to Build Naval Base Along Turbulent Azov Sea
The crisis escalated in October, when the Ukrainian parliament passed a draft law authorizing Kiev to expand maritime controls by 12 nautical miles off its southern coast, allegedly in an effort to counter smuggling in the Black Sea.
The dispute has been brought to attention of the European Union. The EU neighborhood policy commissioner, Johannes Hahn, said during a trip to Kiev that the issue was high on the agenda.