US President Donald Trump's Monday order, which authorizes military personnel on the US-Mexico border to use lethal force, sparked a tense discussion within the Oval Office, according to a report by The Hill.
White House chief of staff John Kelly and US Homeland Security Secretary Kirstjen Nielsen objected to the order, saying it was beyond Trump's constitutional powers to do so.
They were confronted by senior policy adviser Stephen Miller; Chris Crane, president of the National Immigration and Customs Enforcement Council; and Brandon Judd, president of the border patrol union. All of them were adamant that the president was acting within the scope of his constitutional powers.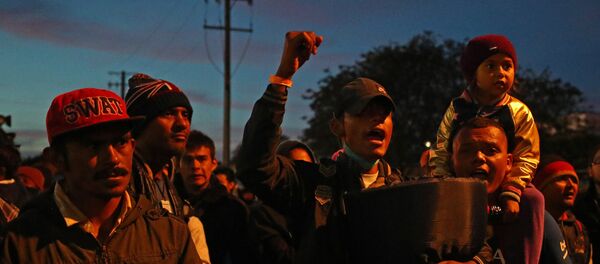 23 November 2018, 10:44 GMT
Also present was Vice President Mike Pence, who did not take a stand on the issue, according to Politico.
Nielsen and Kelly reportedly eventually conceded, with Kelly subsequently signing a cabinet order Wednesday allowing some troops to engage in law enforcement activities and use the lethal force, if needed.
"While a range of issues were discussed on a Monday call, the cabinet memo was not one of those topics. In reality, I have been clear: our agents and officers must have the ability to protect themselves, and to be protected by others, if they face critical situations on the border," Nielsen told Politico in a statement. 
With the order in force, the troops may "perform those military protective activities that the Secretary of Defense determines are reasonably necessary," with "protective activities" including "a show or use of force (including lethal force, where necessary), crowd control, temporary detention, and cursory search."
On Thursday, Trump confirmed that he authorized the use of deadly force.
"If they have to, they're going to use lethal force. I've given the okay. If they have to. I hope they don't have to," he said.
Kelly and Nielsen are believed to be hanging on a thin rope, according to the Hill report. They are expected to be removed from from office in an upcoming administration staff overhaul, the report says, citing Trump's repetitive vocal disappointment with these two.