The Trump administration has been attempting to convince allied countries to shun the use of technology from Chinese telecom giant Huawei amid concerns that it could pose a threat to cybersecurity, The Wall Street Journal reported on Thursday, citing sources familiar with the matter.
Washington has reportedly expressed its concerns to governments as well as internet and wireless providers in several allied countries that widely use Huawei equipment, such as Germany, Italy, and Japan. The United States is also considering increasing financial assistance for telecom development to those nations that would abandon Huawei products in the public and commercial sectors.
READ MORE: China Commerce Ministry Refutes Renewed US Claims of Cybertheft
The White House is said to believe that Beijing could be conducting cyberattacks and espionage using telecom equipment from Chinese firms, including Huawei. Washington officials also think that China could use this technology to hack or damage the networks where it is installed.
According to WSJ, Washington is especially concerned about the use of Huawei technologies in the countries that host American military bases.
The Chinese telecom giant said that it was unhappy with the US government's purported move. "Huawei is surprised by the behaviours of the US government detailed in the article," Huawei said in a statement on Friday. "If a government's behaviour extends beyond its jurisdiction, such activity should not be encouraged."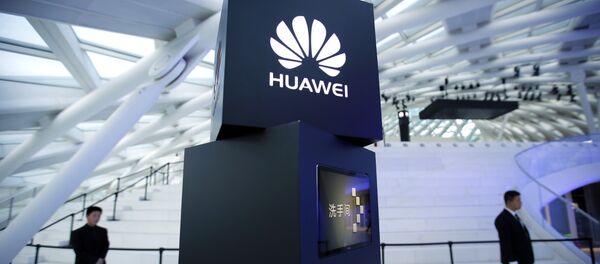 13 October 2018, 17:02 GMT
Huawei has come under scrutiny in the United States during Donald Trump's presidency, when relations between Washington and Beijing deteriorated over trade and technology disputes.
In mid-August, US President Donald Trump signed a bill banning the government use of gear from Huawei, ZTE and other Chinese companies. This came after retail stores at US military bases were prohibited from selling Huawei and ZTE mobile phones over concerns that they "pose an unacceptable risk to the department's personnel, information, and mission."
Just a week after Trump's move, Australia banned Huawei and ZTE from supplying 5G technology to the country's networks, sparking a backlash from two of the world's biggest telecom equipment suppliers. Huawei slammed the ban as "politically motivated" as it came on the heels of Canberra's allegations of Chinese interference in its politics.