US-coalition airstrikes against targets in the terrorist-held city of Hajin, Syria on Saturday have left 20 civilians including nine children dead, Syrian state television has reported.
According to the Ikhbariya television channel, the civilians were killed during an airstrike on a market area in Hajin. Among them were eight women who were related to one another.
This is the second reported case of civilian casualties in coalition operations in Deir ez-Zor province in two days. On Friday, the Syrian Arab News Agency reported that 11 civilians, including women and children, were killed in a strike in the village of al-Shaafa in eastern Deir ez-Zor.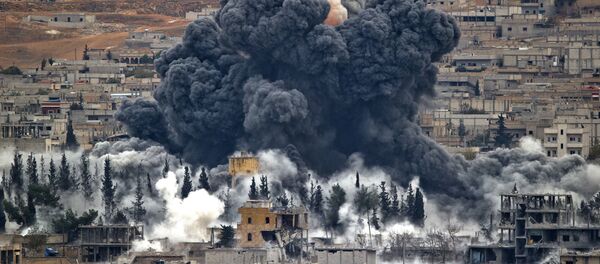 21 November 2018, 02:03 GMT
The US-led coalition and its majority-Kurd Syrian Democratic Forces (SDF) allies have ramped up a campaign against the remnants of Daesh (ISIS)* holed up in several towns east of the Euphrates River. The Syrian government has repeatedly accused the coalition of using
white phosphorus
and
cluster bombs
in the region, and of causing heavy civilian casualties in built-up areas. The coalition has
confirmed
carrying out a heavy campaign of airstrikes in the area, including in the city of Hajin, but has
denied
that the strikes are causing mass civilian casualties, and adamantly denied using banned white phosphorus and cluster munitions.
Since early November, Sputnik has reported on the deaths of nearly 200 civilians in coalition strikes in Hajin and al-Shaafa. On Monday, Russian deputy ambassador to the UN Vladimir Safronkov called on the Security Council to thoroughly investigate Syrian media reports "about indiscriminate coalition airstrikes east of the Euphrates."
*A terrorist group outlawed in Russia and many other countries.