"According to updated data, 73 civilians, including four children, were given medical aid after Aleppo shelling. All hospitalized people have difficulty breathing and their eyes were watering. In medicine, this is called a gas allergy," Sheho said.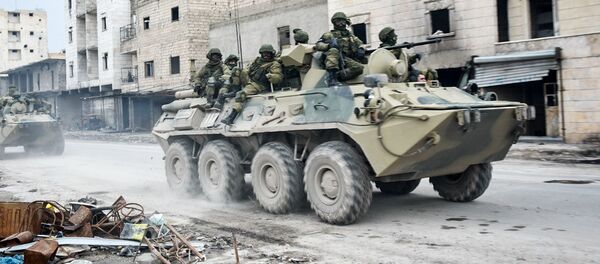 25 November 2018, 01:32 GMT
One of the eyewitnesses of the shelling, Ahmet Mohammed, told reporters that the victims did not immediately feel the first signs of poisoning.
"My brother was at home, he heard that shells were falling, but he thought that nothing terrible had happened. However, after two hours his condition worsened, it became difficult for him to breathe, the ambulance took him to a hospital," he said.
A resident of Nile Street in Aleppo, Galia Ali said that she was given first aid at the hospital, after which she was able to return home.
"But then my daughter's condition worsened, and my family brought her to the hospital," the woman added.
READ MORE: Aleppo Governor Says Chlorine Attack Proves Militants Posess Chemical Weapons
On Saturday, militants from terrorist groups fired shells, presumably chlorine-filled, at neighborhoods of al-Khalidiye and Al Zahraa as well as the Nile Street. People were hospitalized with asphyxiation and other symptoms typical for poisoning.
Russian Defense Ministry spokesman told reporters on Sunday that a special army team arrived in Aleppo to "work with the injured taken to medical institutions, monitor the situation in the area where the militants used poisonous substances."
READ MORE: Dozens of Civilians Hurt as Militants Shell Aleppo with Chlorine Projectiles