According to the FSB, three Ukraininan vessels that earlier left the port of Berdyansk and were heading toward Kerch strait, are now moving back to their home port.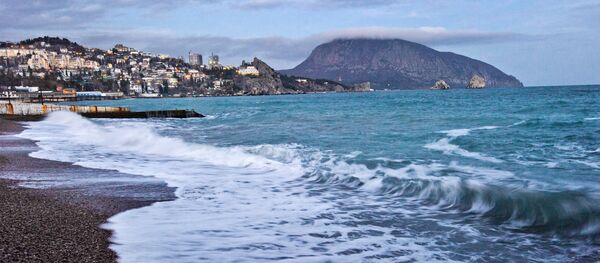 26 October 2018, 13:54 GMT
The Kerch Strait, connecting the Black Sea and the Sea of Azov, has been closed for civilian ships beginning Sunday after three Ukrainian Navy vessels violated the Russian border.
"Three vessels of the Ukrainian Navy, which have earlier left Berdyans'k for the Kerch Strait, have retraced their course and are moving back to Berdyansk," the FSB said in a statement.
Earlier in the day, Ukrainian military vessels crossed the Russian sea border, entered the temporarily-closed area of Russian territorial waters and were moving from the Black Sea toward the Kerch Strait, according to FSB. Another group of ships was heading for the Kerch Strait from the Azov Sea port of Berdyansk.
READ MORE: Canadian Fighter Jets Shadow Russian Su-27 Over Black Sea — Ottawa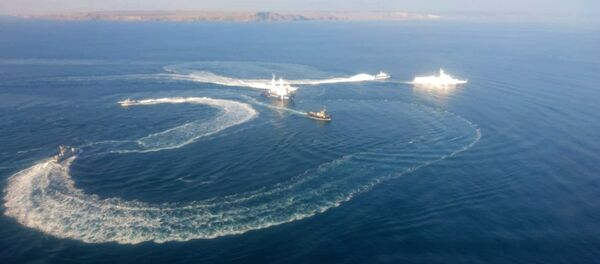 25 November 2018, 18:01 GMT
The provocative actions of three Ukrainian naval ships in the Black Sea has continued for some five hours, the FSB noted earlier on Sunday, adding that it was doing everything possible to put an end to the aggressive moves by Kiev.
Tensions between Russia and Ukraine in the Sea of Azov and the Black Sea rose this year after Ukraine detained two Russian ships for port calls in Russian Crimea, which Ukraine continues to consider its territory. Russia described the move as "maritime terrorism" and ramped up patrols off its Azov coast, prompting Ukraine to accuse Russia of illegal searches.