"This morning at around 07.00 Moscow time, three ships of the Naval Forces of Ukraine, in violation of Articles 19 and 21 of the United Nations Convention of Sea Law, defining the coastal state's right to ensure safety in maritime space, crossed the Russian state border, unlawfully entering the off-limits water area of Russian sea territory," the FSB said in a statement.
READ MORE: US Sanctions Won't Affect Energy Supplies to Crimea — Russian Energy Ministry
Ukrainian warships are moving into the Kerch Strait from the Black Sea, the FSB stressed.
"Ukrainian warships continue to move towards the Kerch Strait, which has a procedure for permitting the movement and anchorage of ships, in accordance with the schedule of the movement and deployment of ships, (which needs) approved by the captain of the Russian seaport," the department said.
Another two Ukrainian naval vessels are heading at full speed from the Ukrainian port city of Berdyansk in the Sea of Azov in the direction of the Kerch Strait, where a provocation has been organized by three Ukrainian naval ships, the Russian Federal Security Service said.
"Today at 11.30 [08:30 GMT] the border guard service of Russia's FSB registered the advancement of two Gurza-class artillery armored boats from the port of Berdyansk. At the moment, they are heading at full speed in the direction of the Kerch Strait to the zone where provocation was organized by the Ukrainian side. The border guard service of the Russian Federal Security Service takes all necessary measures to stop this provocation," the FSB said.
The Kersh Strait, connecting the Black Sea and the Sea of Azov, was closed for civilian ships on Sunday after three Ukrainian navy vessels violated the Russian border, Alexei Volkov, the director general of the Crimean Sea Ports company, told Sputnik.
"The passage through the Kerch Strait is closed for civilian ships," Volkov said.
The decision has been made over security reasons, he added.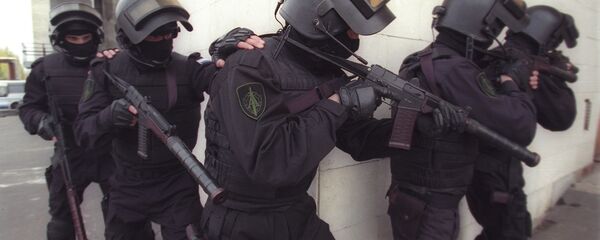 The Russian Federal Security Service's border control department has said that it is doing everything it can to curb the provocation by the three Ukrainian ships.
In October, the Ukrainian parliament passed a draft law authorising Kiev to expand maritime controls by 12 nautical miles off its southern coast, allegedly in an effort to counter smuggling in the Black Sea.
Russian Foreign Ministry emphasised that Russia regarded the waters east of Crimea as an integral part of its territory. The Black Sea peninsula in southern Europe rejoined Russia in 2014.