General Motors Canada will be announcing the closure of all operations in Oshawa, Canada on 26 November, multiple anonymous sources told CTV News Toronto. If the report is true, the move will affect at least some 2,500 workers, plus others in related spheres, such as auto parts productions.
READ MORE: General Motors Dumps India for Chinese, Southern American Markets
Unifor, a union, which represents workers at the GM plant, said in a statement that it received a notification from GM about an upcoming major announcement regarding the Oshawa plant, which is to take place on 26 November. Unifor doesn't know the details of the announcement, but noted that no product production has been planned at the plant beyond December 2019. The union promised to comment further on the matter, once it obtains all the details during the meeting with GM representatives, planned on the same day as the announcement.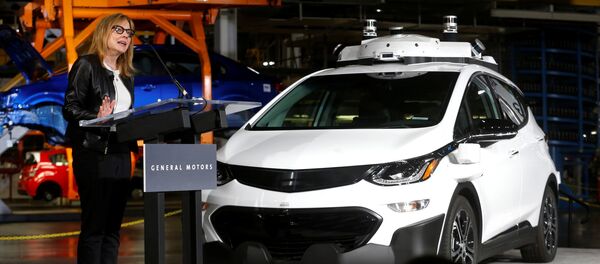 22 August 2017, 15:58 GMT
Oshawa's Mayor, John Henry, expressed hope that the report about a looming plant closure is 'just a rumour' and noted that there had been no 'heads up' for the city or the region regarding GM's move.
One of Oshawa's MPs, Jennifer French called the report 'gravely concerning' and urged the provincial government to fight to save the over 100-year-old plant. She was joined by Colin Carrie, Canadian member of parliament, who said the report was 'very concerning' and noted that the alleged move could affect the 'economic wellbeing' of Oshawa's residents.
READ MORE: General Motors Targets 2019 for Launch of Sales of Self-Driving Cars in US
A spokesperson for GM has declined to comment on the report.
Many netizens were infuriated by the report, which has yet to be confirmed. They recalled how the Ontario government had helped GM Canada out with bailout money almost 10 years ago…
… and that by 2017 the company still hadn't paid back all the loans.
Some social media users urged to boycott GM's cars in response.
Still, several Twitterians suggested that GM was not the only one to be blamed and noted that the government could do more to save the plant.
Others suggested though, that the closed plant could be refitted for another business that recently received a boost in the country due to new legislation.
The plant of General Motors Canada has long been the key employer and economic driver of Oshawa. With plant's history goes back to 1876, when it was known as the McLaughlin Carriage Company, the automobile industry became the Canadian city's calling card much like that of Detroit in the US. To this day, a significant part of jobs and economic growth in the city are tied to GM's operations.