A French court has acquitted a Bangladeshi refugee for the rape of a 16 year-old high-school girl, with whom he attended the same school in the French city of Saint-Lô, after the attorney argued that the defendant had "different cultural norms," which might have led to a misunderstanding of the girl's behaviour or looks. The same refugee was also charged with assaulting another young girl, with both incidents occurring in 2015.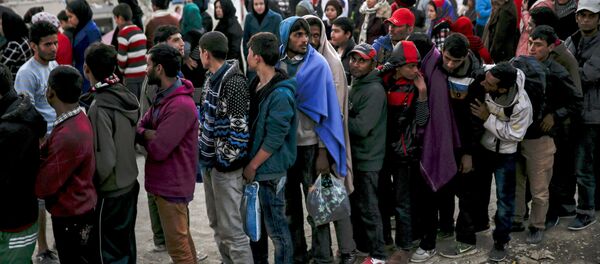 24 November 2018, 14:06 GMT
The judge ultimately gave him a suspended sentence of two years behind bars, Voice of Europe reported, citing the French news website La Manche Libre, adding that the investigators called attention to the male-dominant culture of Bangladesh overseeing that women "are relegated to the status of sexual object" in the largely Muslim country.
In the first case, the unnamed then 18 year-old refugee was accused of kissing and groping the private parts of a school girl, but was cleared of the charges after he insisted the girl, who managed to leave the room, had consented to it. In wake of the incident, the girl was reported to have attempted a suicide and spent a week in hospital.
In the second case, which came along four months later, the migrant was arrested again, this time on rape charges.
Defendant's Cultural Norms Differ – Jihad Watch
Addressing the case, Jihad Watch Director Robert Spencer stressed that the refugee's "cultural norms" indeed are different and are all rooted in Islam, wondering why Western countries can't enforce theirs.
"Why can't France enforce its own 'cultural norms'? Why can't any Western country?" he asked, further citing the survivor of a Muslim rape gang in the UK as noting that her assailants quoted the Quran to her.
Spencer said that the Quran "teaches that infidel women can be lawfully taken for sexual use," going on to quote a verse:
"O Prophet, tell your wives and your daughters and the women of the believers to bring down over themselves of their outer garments. That is more suitable that they will be known and not be abused. And ever is Allah Forgiving and Merciful," (33:59) he quoted, thereby implying that if women do not cover themselves accordingly with their outer garments, they may be abused, and that "such abuse would be justified."
EU Migration Woes
Following a number of similar cases in Britain last year, particularly a case of 17 Muslim men and one woman convicted of raping over 100 underage white girls, the UK government's senior legal adviser claimed that judges were slapping much lighter sentences on Muslim rapists out of "political correctness."
In September, in the latest British trial with regard to the pressing issue of Muslim "grooming gangs," a woman was filmed testifying on camera that she was "passed around" starting from the age of 13 by around 100 men.
Just last month in Germany, meanwhile, in a widely reported case, an 18 year-old girl was raped outside a disco by eight men, seven of whom were Syrians. Separately, in June, Germany saw a huge backfire after an Iraqi immigrant was arrested over the murder of a 14 year-old Jewish girl, the incident sparking criticism of Chancellor Angela Merkel's immigration policy and her contentious decision to open borders back in 2015. Germany remains to date the only EU country to constitutionally guarantee asylum-seekers refuge.
READ MORE: Anti-Migration Protests in Germany Unlikely to Deter Migrant Flows — ICMPD