"The Russian Foreign Ministry is declaring resolute protest over Ukrainian Naval Forces' ships' violation of rules of innocent passage in the Russian territorial waters of the Black Sea. The Russian side has requested an urgent meeting of the UN Security Council to discuss the developing situation," the statement read.
Russia will suppress "harshly" any offence against its sovereignty and security, the Russian Foreign Ministry said in a statement.
"We would like to warn the Ukrainian side that its policy, coordinated with the United States and the European Union and designed at provoking conflict with Russia, is fraught with serious consequences," the statement read.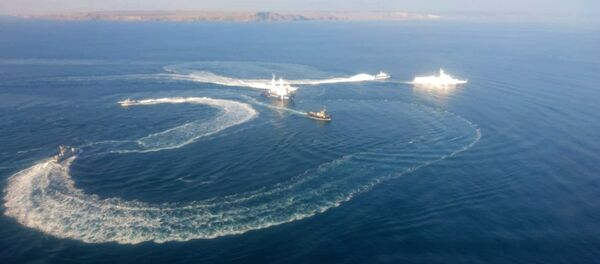 26 November 2018, 06:44 GMT
The statement comes after the Russian Federal Security Service (FSB) said that three ships of the Ukrainian Navy in violation of Articles 19 and 21 of the UN Convention on the Law of the Sea, crossed the Russian sea border, entered the temporarily closed area of the Russian territorial waters, and were moving from the Black Sea toward the Kerch Strait.
The Ukrainian ships did not react to legal demands of the ships accompanying them and made dangerous manoeuvres and were detained after violating the Russian state border, according to the FSB.