The Ukrainian army has been placed on high alert, the Defence Ministry's press service announced in Kiev on Monday. The statement said that the move followed a decision by the National Security and Defence Council of Ukraine (NSDC) on the introduction of martial law.
The Security Service of Ukraine (SBU) has also been put on heightened alert.
"Counterintelligence measures have been strengthened to prevent further provocations by the Russian special services on the territory of Ukraine and destabilise the situation inside the country," the statement added.
Provocation by Ukrainian Navy
On Sunday morning, Ukrainian Navy ships Berdyansk, Nikopol and Yana Kapu, entered the temporarily closed water area of the territorial sea of the Russian Federation in violation of Articles 19 and 21 of the UN Convention on the Law of the Sea, and dangerously manoeuvered for several hours ignoring all demands to leave the area.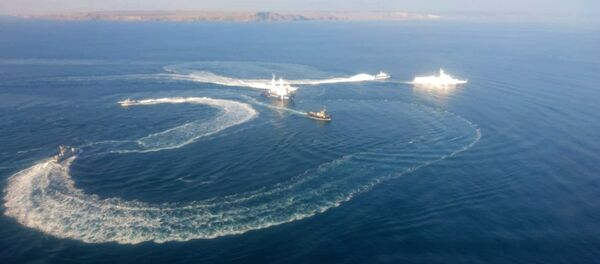 26 November 2018, 06:44 GMT
The Russian ships then opened fire, slightly wounding three Ukrainian sailors.
All three ships were detained about 20 kilometres (12.4 miles) from the Russian coast and 50 kilometres (31 miles) southwest of the usual passage of ships along the Kerch Strait under the Crimea Bridge.
A spokesman for the FSB Border Directorate for Crimea, Anton Lozovoy, said earlier in the day that the vessels seized were being convoyed to the port of Kerch and that the three wounded Ukrainian soldiers had received medical assistance.
Russia has launched a criminal probe into the incident and requested an emergency meeting of the UN Security Council to discuss the situation in the Sea of Azov. A preliminary session is scheduled for Monday morning.
READ MORE: Kiev Urges Moscow to Return Servicemen Detained in Kerch Strait Incident
Tensions around the Sea of Azov erupted this year after Ukraine detained a Russian vessel, prompting Moscow to boost controls in the area.
The tensions further escalated in October when the Ukrainian parliament passed a draft law authorising Kiev to expand maritime controls by 12 nautical miles off its southern coast, purportedly in an effort to counter smuggling in the Black Sea.