On Sunday, November 25, the rearranged Copa Libertadores final at the El Monumental stadium in Buenos Aires was called off again, after doctors ruled several of the Boca players unfit to play.
A window in the team coach shattered on Saturday, November 24, and team captain Pablo Perez, 33, was left with tiny shards of glass in his eye.
Perez admitted the Boca Juniors players were too scared to play the game in Sunday.
"The people were crazy before going in, imagine if we won on their pitch, turned them over at their home ground, what would have happened? They could have killed me," said Perez.
River v Boca to be played in Paraguay? In Miami? In Doha?
All possibilities

— Tim Vickery (@Tim_Vickery)

27 November 2018
​Boca Juniors and River Plate are the two biggest clubs in Argentina and huge rivals. Derbies — known as superclasicos — between the two can often resemble wars between the two halves of Buenos Aires.
On Tuesday, CONMEBOL — football's governing body in South America — said River Plate had 24 hours to present their defence to a hearing at the confederation's headquarters in Luque, Paraguay.
Confederation executives are meeting on Tuesday to decide where and when the postponed second leg should be played.
[Tweet: "Disciplinary unit opens process against River Plate"] 
The first leg, played at Boca's El Bombonero stadium, ended in a 2-2 draw. No fans from River Plate were allowed into the ground for fear of violence.
Boca wants River to be punished for the attack that injured several players near the El Monumental and they say the Copa Libertadores should be awarded to Boca by default and they claimed there was a precedent — in 2015 River Plate won the cup after violence by Boca were thrown out of tournament after violence at a superclasico.
"Argentina has not been able to deal with violence when it comes to football. The chants all around the stadiums call to kill rivals," Gustavo Granero, a Boca Juniors fan and club member, told Sputnik.
"There is also a parallel system in place, an uncontrollable economic structure that operates mirroring clubs to guarantee their own power and influence in football teams. The barra bravas are organisations within the football teams that have the power to turn over boards of directors. Their means to express disapproval is through violence. This is the case with virtually all teams but River is currently one of the most violent," Mr. Granero told Sputnik.
"It is alarming that the fights among the barra bravas have caused the deaths of hundreds in the last 25 years. This latest episode is the result of barras bravas that are out of control," Mr. Granero told Sputnik.
"I'm really sad about everything, and also for the people of River. There is sadness for the people of Boca, for River and for the whole spectacle. The episode was shameful," said Pablo Perez.
One for pointless trivia fans (so 77% of Twitter, essentially): if River-Boca is relocated to Paraguay it will be the first Libertadores final played on neutral ground since 1987, when Peñarol beat América de Cali 1-0 in Santiago's Estadio Nacional.

— Daniel Edwards 💚 (@DanEdwardsGoal)

27 November 2018
​Boca's most famous player — former Manchester United and City ace Carlos Tevez — said his team were in no fit state to play on Sunday.
The disciplinary committee will decide whether to disqualify River Plate, force the second leg to be played behind closed doors, or transfer the match to a neutral stadium, possibly one in the Paraguayan capital, Asuncion.
Social media is full of speculation the game will go ahead in Paraguay on December 9.
The Copa Libertadores is the biggest competition in South America, the equivalent of Europe's Champions' League.
© Sputnik / Chris Summers/Sputnik
A mural of Carlos Tevez near Boca Juniors El Bombonero stadium in Buenos Aires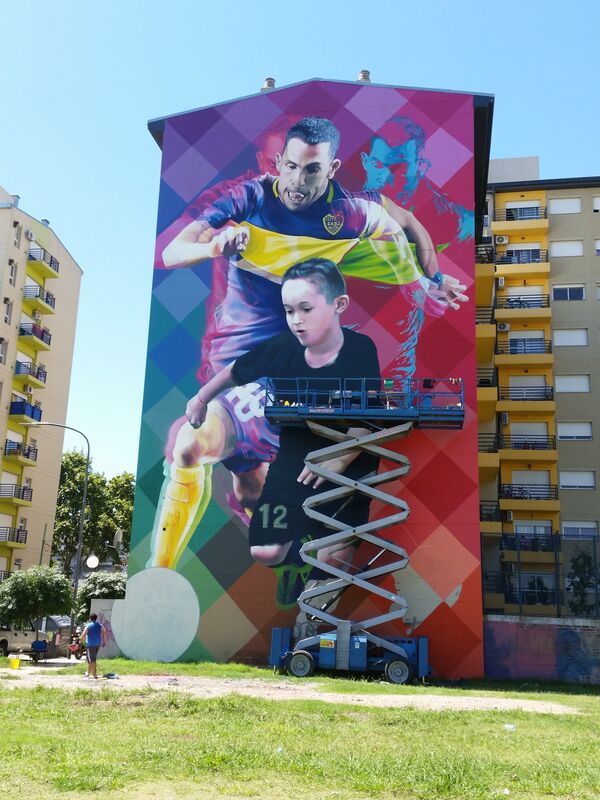 A mural of Carlos Tevez near Boca Juniors El Bombonero stadium in Buenos Aires
© Sputnik / Chris Summers/Sputnik