According to the FSB, the officer in the video is Capt. 3rd Rank Volodymir Lesovoy — commander of an auxiliary ship unit at the Yug (South) naval base of the Ukrainian navy.
"I deliberately ignored [Russian] requests to stop transmitted at VHF frequencies. At the time of the mission, we had small arms and large-calibre machine guns with ammunition on board," Lesovoy says in the video without specifying the name of the ship he was on.
"I was well aware that the actions of the Ukrainian navy in the Kerch Strait are provocative," he says, adding that he was fulfilling orders as a subordinate officer to bring the ships from the port of Odessa to the port of Mariupol.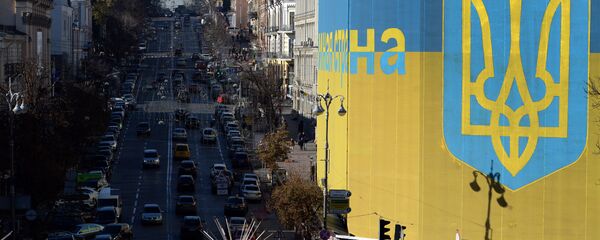 26 November 2018, 19:04 GMT
READ MORE: UNSC Reaction to Kerch Strait Incident May Encourage Kiev Provocations — Moscow
On Sunday, Ukraine's Berdyansk and Nikopol gunboats and the Yany Kapu tug crossed the Russian maritime border. According to Russia's Federal Security Service (FSB), the vessels sailed towards the Kerch Strait, an entrance to the Sea of Azov, where the ships were seized by Russia due to the lack of reply to a lawful demand to stop.
In response to the situation in the Kerch Strait, the Ukrainian authorities decided on Monday to introduce martial law in selected regions of Ukraine along the border with Russia as well as along the coast of the Black Sea and the Sea of Azov for 30 days.