"SBU Head Vasyl Hrytsak confirms the presence of officers from the SBU Military Counterintelligence Department on board the Ukrainian ships attacked and seized by Russia in violation of international legislation in the Kerch Strait on 25 November 2018," the SBU press service said.
READ MORE: Detained Ukrainian Naval Officer Admits Provocative Actions in Kerch Strait
According to the statement, these officers were providing counterintelligence support to the Ukrainian naval unit.
"The Security Service of Ukraine takes all necessary measures within its area of responsibility to release Ukrainian captives and return them to their families. At the same time, the Security Service of Ukraine requests the top command of Russian intelligence to halt psychological and physical pressure on Ukrainian soldiers, currently being exercised to justify the act of flippant aggression," the press service added.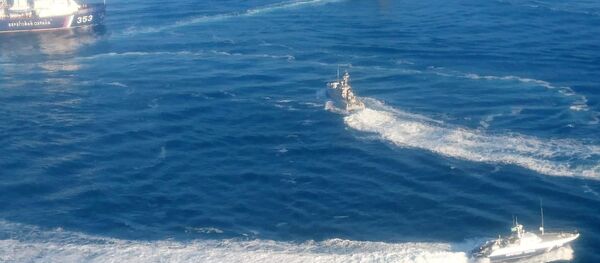 27 November 2018, 08:50 GMT
In response to the situation in the Kerch Strait, the Ukrainian authorities decided on Monday
to introduce martial law in select regions along the Russian border,
and the coasts of the Black Sea and the Sea of Azov, for 30 days.
According to Russia's Federal Security Service (FSB), Ukraine's Berdyansk and Nikopol gunboats and the Yany Kapu tugboat on Sunday sailed toward the Kerch Strait, the only entrance to the Sea of Azov, where the ships were seized by Russia after failing to respond to lawful demands to stop. The FSB also said that these provocations were coordinated by two SBU officers who were on the vessels.