Sputnik spoke to Gregory Turintsev, commercial director for the Moscow-based Russian National Intellectual Property Transactions Coordination Centre (n'RIS) and Omar Shaikh, advisory board member for the Islamic Finance Council UK in London. 
IPChain is a "non-profit association under the n'RIS umbrella charged with networking an 'infrastructure of trust' for international markets," Mr. Turintsev said, adding that it "operates as a project of the Skolkovo Innovation Centre." 
He stated that the group also "provides services for cooperating on the storage and transactions of international property objects (IPOs)."  
Organisations such as n'RIS help to change the way Russian businesses operate as well as how international clients do business in Russia by "[facilitating] the globalisation of economic transactions of intellectual property objects," he continued.  
"This will become necessary in the future for market participants across all cultures and creators of IPOs, in addition to domestic and international patents."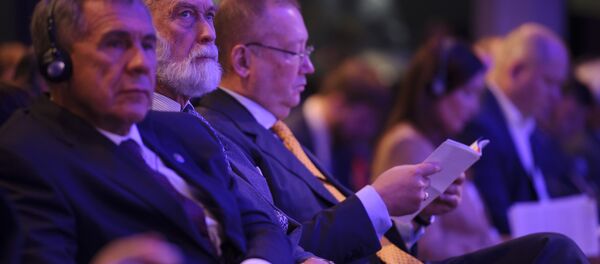 27 November 2018, 17:55 GMT
"Information is the main commodity", he stated, where companies will need to share data and communicate patent rights across borders. "It is necessary to fix the rights in the network due to different departments of development." 
"One team could be based in Russia and others could be based abroad; therefore, they must fix and specify the rights for the objects they have created," Mr. Turintsev said. 
iPChain was founded by the Skolkovo Innovation Centre and Russian Organization for Intellectual Property (VOIS), who provide the digital platform to access the intellectual property objects of major institutions, including corporations, creative associations, artistic unions, holding companies, scientific research and development, as well as legal entities, government authorities, and societies. 
Mr. Shaikh told Sputnik the unique angle of Islamic banking, which is steadily gaining international traction as nations invest in infrastructure projects throughout the developing world. 
"Islamic banking is different through two distinct lenses," Mr. Shaikh said. "One is ethical, where you cannot engage in anything harmful to society, and a lot of different faiths or those of no faith would agree with those shared values." 
"We launched something called the Edinburgh Finance Declaration, which looks specifically at shared values between faith traditions towards finance, which is the simpler and socially-conscious side of it." 
"The other aspect of Islamic finance is the scriptural restriction on receiving or charging interest, and at that point, most people fall off their chairs, asking 'how can you have a banking system that does not receive or charge interest,' — something both fascinating and unheard of."
Mr. Shaikh also said that Islamic banking forces economists "look at the banking system to see how it is constructed whilst seeing the dangers or challenges of interest-based versus equity-based financing".  

15 August 2018, 16:49 GMT
Traditional macro-economists refer to the "divide between the rich and poor expanding, as those who already own capital ie, the rich, tend to win as they lend money and receive a return, regardless if the borrower's business performs well, bad or ugly," he stated. "As an equity investor, you lose if the business loses and you do well if the business does well." 
Mr. Shaikh also mentioned that bans on interest is shared in the Abrahamic religions and that Greek philosophers' "views on interest were also intriguing, describing it as giving money, a non-organic and sterile matter, the peculiar ability to breed and multiply." 
"It forces you to re-evaluate the nature of banking and Islamic banking is a system about financing based on the real economy," Mr. Shaikh continued.  
"There is a portion based on venture capital and private equity, and another on asset-backed financing, where one can invest or rent on an asset to make a return." 
He also discussed the role of institutions such as the Asia Infrastructure Investment Bank (AIIB) and Islamic Development Bank (IsDB) in international development, who partnered in June to develop infrastructure financing along the Belt and Road Initiative.  
"Infrastructure is fundamental and you can never underestimate it," Mr. Shaikh said. "Just look at the New Silk Road going through China into Pakistan. That is fundamental to uplifting economies, people, and businesses." 
He stated that as a real asset, infrastructure "aligns itself very well with Islamic financing because you have to invest in something tangible and real" and that "it is an interesting class of investments for Islamic finance." 
"In Nigeria, Osun-state issued an Islamic bond for use on infrastructure projects and the development of Queen Alia Airport in Anman, Jordan, had been partly-funded by Islamic finance," he explained.  
"It is very important for the Islamic financing world to get more comfortable with taking positions on infrastructure projects through longer-term Islamic bonds (sukuk), as most sukuk appetites are currently around the 5-year period with fewer long-term ones. Availability of products will help to drive this change and collaboration between the IsDB and AIIB will help facilitate that."